Freshman Shelby Hayes' first double-double helps Rice top Charlotte, 64-52


POSTED: February 26, 2023 -- 11:53 a.m. CST
HOUSTON, TX (Tudor Fieldhouse) -- The Rice Owls defeated the Charlotte 49ers 64-52 Saturday afternoon to improve to 20-7 overall and 11-7 in Conference USA. Saturday's game was Senior Day for six Rice seniors. Before the game, Rice honored seniors Ashlee Austin, India Bellamy, Katelyn Crosthwait, Destiny Jackson, Alexis Stover and Haylee Swayze.
Ironically, freshman post player Shelby Hayes was the star of Saturday's game. Hayes came off the bench and scored 18 points and grabbed 13 rebounds for her first double-double at Rice. The 18 points and 13 rebounds are personal bests for Hayes.
"I was just focused on having fun and celebrating what this day is about and that's the seniors," Hayes said after the game. "It was just really good to get the win; beat Charlotte; and have fun."
"Shelby is just someone that does whatever it takes to make the team better," Lindsay Edmonds, Rice Head Coach said of Hayes after the game. "I'm so proud of her."
Five of Rice's 6 seniors started the game; and, they dominated Charlotte (11-16, 7-11) in the first quarter. India Bellamy scored 7 of Rice's 21 first quarter points. Haylee Swayze scored 6 in the quarter.
Rice led Charlotte 21-10 at the end of the first 10 minutes. Rice shot 61.5% (8 for 13, 4 for 6 three-pointers) while Charlotte did not attempt a single three-pointer in the first quarter and made just 5 of 14 field goal attempts.
With Bellamy on the bench with 2 fouls, Hayes came into the game and went work in the second period. Hayes scored 8 points and pulled down 5 rebounds in the second quarter to help the Owls win the second quarter 15-10.
Rice led Charlotte 36-20 at halftime. The Owls shot 5 for 11 from three in the first half. Charlotte took only three-pointer in the first 20 minutes and missed that attempt.
Hayes continued her dominance with 8 points and 8 rebounds in the third quarter. Senior Ashlee Austin scored 5 points in the third to help Rice win the third quarter 20-16.
For the second consecutive game, Rice did not have a stellar fourth quarter. The Owls scored 8 points (4 for 14 field goals) in the fourth Saturday afternoon. In Thursday's home win over UAB, Rice made just 3 of 12 field goals and committed 9 turnovers in the fourth quarter.
"I'm excited about where we're at," Coach Edmonds said. "But, we can keep pushing to finish that fourth quarter out and not lose that fourth quarter the way that we have the last two games. So, that's something we're still talking about."
Ashlee Austin filled the stat sheet with 13 points, 5 rebounds, 3 assists, and 2 blocked shots.
"You could just feel the energy," Austin said of Senior Day. "And, I think that really carried us throughout the game - offense and defense. Just playing together. Being excited for each other."
India Bellamy finished the game with 11 points and 3 rebounds in only 17 minutes. Bellamy battled foul trouble in the game; but, Hayes did a great job coming off the bench and producing big numbers for the Owls.
"We work against Shelby every day. We work with Shelby every day," Bellamy remarked after the game. "It feels good when she goes out there. You can see what we've been working on. She's just getting so much better. All the growth over this year; so, it's really exciting. We were screaming for her from the bench."
Coach Edmonds earned her first 20-win season in only her second season as Rice's Head Coach.
"That's awesome! It's awesome for these young ladies," a modest Coach Edmonds said of the 20 wins this season. "They go out there; and, they have to do it. They execute the game plan. And, they put the ball in the basket and get the defensive stops.
"We were at 14 wins last year with 7 or 8 players," Coach Edmonds continued. "And, we get to 20 this year - with games to go. We're not just settling on being at 20. We got 2 more regular season (games); and, then, we have Conference Tournament; and, then, there's going to be life after Conference Tournament as well. I'm really, really proud of this group reaching this milestone; but, I know that there's more to come."
NEXT: Rice closes out the C-USA regular season on the road with 2 games in Florida. First game is Thursday, March 2, against Florida Atlantic, at 6 p.m. on CUSAtv.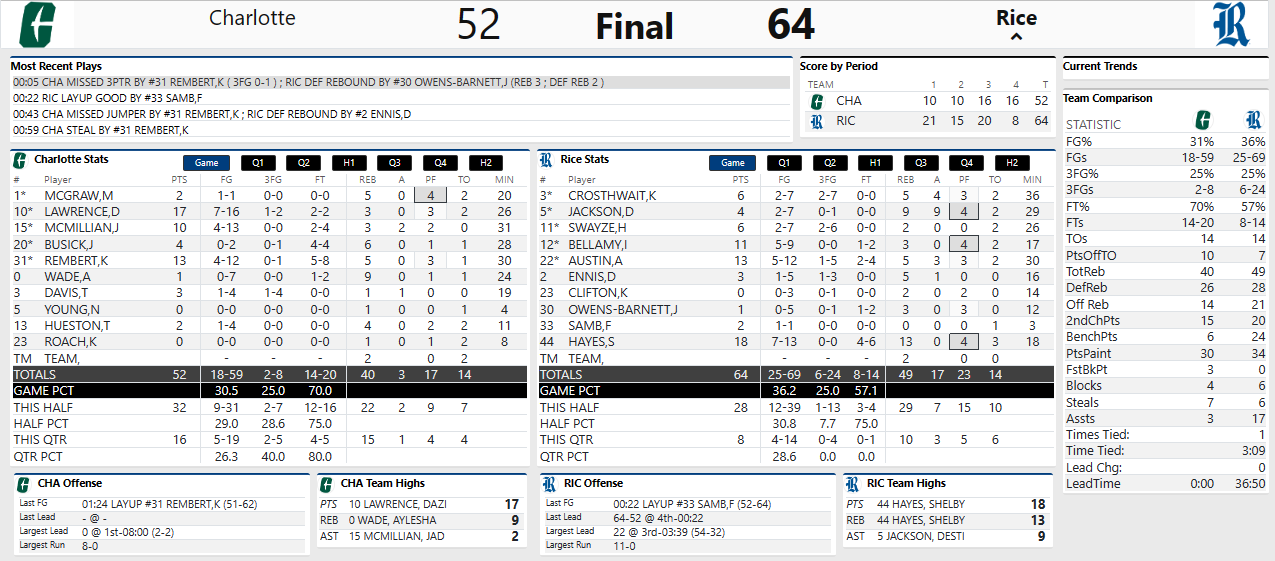 ---
SUPPORT The Houston Roundball Review:
Purchase your Rice Owls' gear at Fanatics.com via this link;
Get ESPN+ via this link;
Save when you get the Disney bundle (ESPN+, Disney+ and Hulu) with this link;
OR, contribute via PayPal or the Cash App.
---
CLICK HERE for The HRR's Rice Owls women's hoops write-ups.