India Bellamy's 19 points helps Rice hold on and defeat UAB 63-58

POSTED: February 24, 2023 -- 7:45 a.m. CST
HOUSTON, TX (Tudor Fieldhouse) -- The Rice Owls had a less than stellar fourth quarter Thursday night; but, the Owls still got a 63-58 victory over UAB to improve to 19-7 overall and 10-7 in Conference USA.
Rice led 53-36 after three quarters; however, the Owls made just 3 of 12 field goals and committed 9 turnovers in the fourth quarter to contribute to a much closer than expected fight to the finish in the closing minutes of the game.
"I will start by saying that winning is hard," Lindsay Edmonds, Rice Head Coach said to open her postgame comments. "But, we took care of home. It didn't look exactly the way that we wanted it to look like; but, thank goodness for our second and third quarter performances because that allowed the cushion that we needed tonight.
"UAB fought really hard in the fourth; and, I didn't love the way we finished the game. But, we built that lead in the second and third that allowed us to make some of those mistakes in the fourth. I'm proud of them to pull it out; and, I'm glad that we took care of home. But, I definitely think we are better than what we showed in the fourth."
UAB (12-15, 4-14) shot 57.1% (8 for 14 field goals) in the fourth period and sliced Rice's lead to 3 (61-58) with 2:33 to go in the final period.
Neither team scored for 2 minutes before Rice senior point guard Destiny Jackson scored a tough floater in the paint with 20 seconds left in the ball game. UAB missed a 3-point attempt on its next possession allowing Rice to closed out the victory.
Rice trailed UAB 18-15 at the end of the first quarter; however, Rice outscored UAB 38-18 in the second and third quarters. UAB made 2 of 18 field goal attempts in the second stanza and 5 of 16 attempts in the third quarter.
Rice senior post player India Bellamy had another solid performance for Rice with 19 points. Bellamy says she's playing with more confidence.
"A lot. My teammates. They're really trusting in me. Coach is trusting in me. Giving me the ball; so, I'm just scoring; shooting. I'm playing with confidence."
Rice senior guard Katelyn Crosthwait scored 17 points and grabbed a career-high 9 rebounds.
The Owls' starting backcourt of Crosthwait and Jackson combined for 19 of Rice's 42 rebounds.
Crosthwait mentioned she and Jackson made an effort to crash the boards.
"Yes. Obviously, Malia (sophomore forward Malia Fisher) is out (with an ankle injury). She's our leading rebounder. Obviously, they (UAB) had a big post presence and that was kind of focus on our posts were rebounding or boxing out; so guards going to get. So, me and DJ kind of took advantage of that tonight."
NEXT: Rice hosts Charlotte this Saturday, February 25, on Senior Day, at 2 p.m., on ESPN+.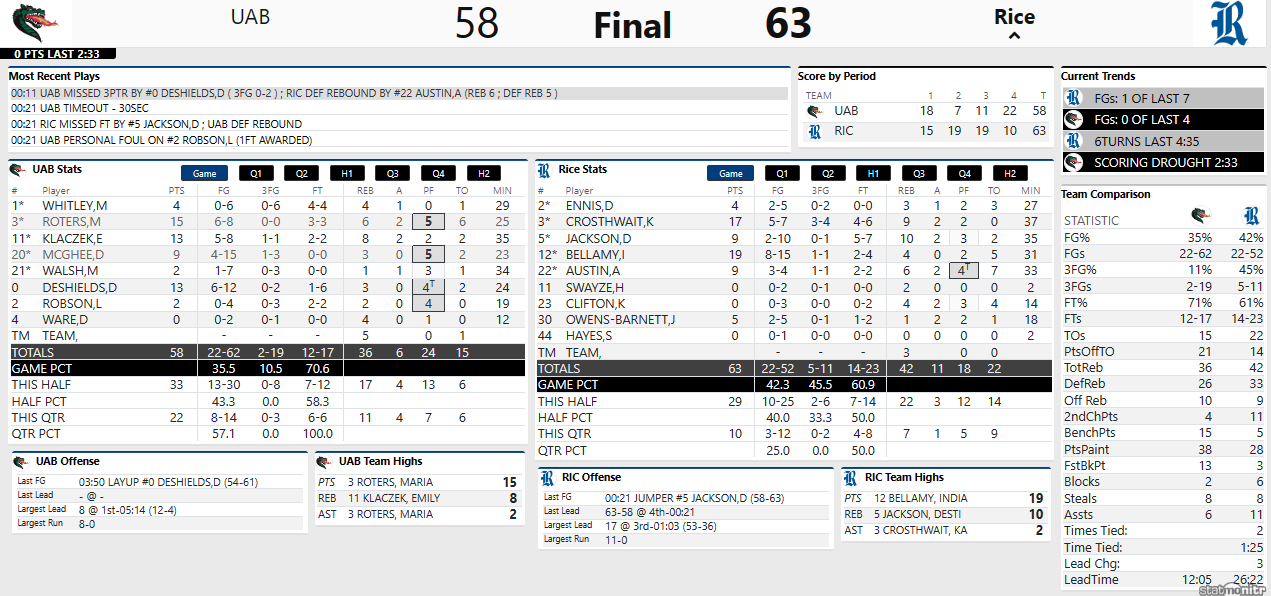 ---
SUPPORT The Houston Roundball Review:
Purchase your Rice Owls' gear at Fanatics.com via this link;
Get ESPN+ via this link;
Save when you get the Disney bundle (ESPN+, Disney+ and Hulu) with this link;
OR, contribute via PayPal or the Cash App.
---
CLICK HERE for The HRR's Rice Owls women's hoops write-ups.