American Athletic Conference Reveals 2020-21 Women's Basketball Conference Schedule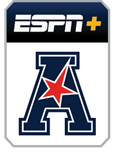 POSTED: November 20, 2020 -- 3:59 p.m. CT
The American Athletic Conference has officially released its 2020-21 women's basketball conference schedule.
The league slate will feature each of The American's 11 members competing in a 20-game, double round-robin schedule for the first time in conference history. The 2020-21 campaign marks the start of a 12-year media rights extension between The American and ESPN, with a total of five women's basketball games set to air on linear television across the ESPN family of networks.
All games aired on an ESPN network will also be available through the ESPN App, computers, smartphones, tablets and streaming devices to fans who receive their high-speed Internet connection or video subscription from an affiliated service provider.
The remaining conference-controlled games will be on ESPN+, ESPN's direct-to-consumer streaming service which reaches more than 10.3 million subscribers and is available HERE. For more information on ESPN+, visit The American's Fan Guide to ESPN+.
Conference play begins for The American on Tuesday, December 15, when Tulane travels to Orlando, Florida, to face UCF. League favorite USF is set to play in-state rival UCF on February 7 and March 2, preseason third-place team Tulane on Jan. 13 and February 20 and last season's conference runner-up Cincinnati on December 22 and January 30. Along with its games against USF and Tulane (December 15 and February 17), preseason conference runner-up UCF will tangle with Cincinnati on January 17 and February 14.
The 2021 American Athletic Conference Women's Basketball Championship is scheduled for March 8-11 at Dickies Arena in Fort Worth. The opening round, quarterfinal and semifinal games will either air on an ESPN linear network or ESPN+, with the conference championship game set for either ESPN, ESPN2 or ESPNU.
---
SUPPORT The Houston Roundball Review via PayPal or via the Cash App.
Sign up to get ESPN+.
Or, get the Disney bundle: ESPN+, Disney+, and Hulu!!! Save when you bundle all three and get the best movies, shows & sports.
---
Official game times and broadcast information will be announced at a later date. All game dates for the 2020-21 season are subject to change.
CLICK HERE for more NCAAW news and info.
Subscribe in a RSS Feeds reader