Baylor remains top seed in second NCAA Top 16 Reveal
Byron L. Riley, CPA; 832-303-3995; Do you need tax help? IRS Tax help available- Free Consult
Posted: March 4, 2019 -- 8:01 p.m. CST
In the second top-16 reveal by the NCAA Division I Women's Basketball Committee, it was announced that four schools that have won six of the last seven national championships would occupy the No. 1 seed line, as Baylor, Louisville, Notre Dame and UConn all would have earned top seeds IF THE SEASON ENDED TODAY.
Oregon, Mississippi State, Stanford and Iowa are currently No. 2 seeds. Teams rounding out the top-16 seeds included NC State, Maryland, Oregon State and South Carolina on the three line, while Miami (FL), Iowa State, Syracuse and Texas A&M were No. 4 seeds.
In addition, the committee designated region assignments for all 16 seeds, with Baylor the No. 1 seed in the Greensboro Regional, while Louisville would be the top seed in the Chicago Regional, Notre Dame in the Portland Regional and UConn in the Albany Regional.
Here's a look at the new Top 16 — and what's changed: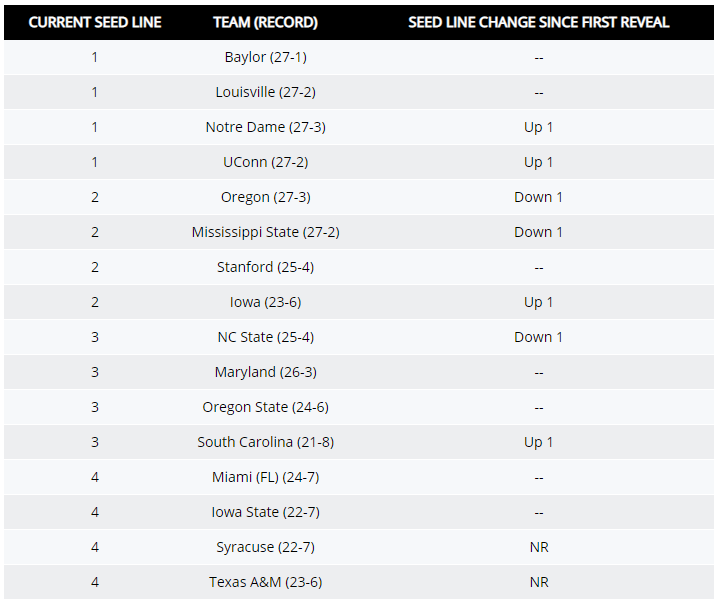 NCAA Division I Women's Basketball Committee – March 4 – Top-16 Ranking*
Baylor (No. 1 seed – Greensboro Region)
Louisville (No. 1 seed – Chicago Region)
Notre Dame (No. 1 seed — Portland Region)
UConn (No. 1 seed — Albany Region)
Oregon
Mississippi State
Stanford
Iowa
NC State
Maryland
Oregon State
South Carolina
Miami (FL)
Iowa State
Syracuse
Texas A&M
Regional Assignments
Albany:
UConn
Mississippi State
Oregon State
Miami (FL)
Chicago:
Louisville
Stanford
Maryland
Iowa State
Greensboro:
Baylor
Iowa
NC State
Texas A&M
Portland:
Notre Dame
Oregon
South Carolina
Syracuse
*Rankings based on games played through Sunday, March 3.
Byron L. Riley, CPA; 832-303-3995; Do you need tax help? IRS Tax help available- Free Consult
CLICK HERE for more NCAAW news and info.
Subscribe in a RSS Feeds reader