Texas Southern Head Coach Johnetta Perry: "I really, really like this group because it's definitely a family atmosphere."

October 20, 2018 -- 11:55 a.m.
With 11 newcomers on her 2018-'19 team, Texas Southern Head Coach Johnetta Perry is not certain how good her team will be this season. In fact, she said, "We're just trying to figure out who we are as a team."
Even with 11 newcomers, the SWAC coaches picked TSU second in the preseason SWAC Coaches Poll.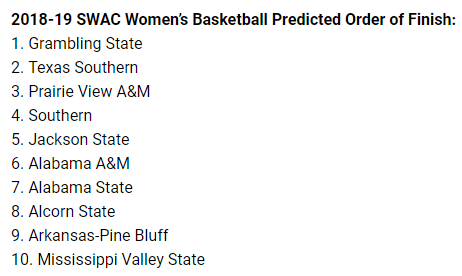 "We really try not to look at the preseason rankings too much," Perry admitted. "But, 'thank you' to everyone who thought we were good enough to be there. We're far from that."
"I have three fifth-year transfers; four junior college players; four freshmen," said Coach Perry discussing the breakdown of her roster. "I return three players from last year's team; and, I have a young lady returning from injury as well."
Shaniya Mitchell is the player returning from injury. Mitchell tore her ACL last year which was the second time Mitchell has torn the ACL
"I'm really excited about Shaniya Mitchell (5'10" junior)," Perry stated. "She missed last season with an injury (torn ACL). She's back; and, she's healthy. She's full go; and, she only knows one speed. I love that. She plays really hard; and, she's definitely the grit of our team.
Coach Perry also mentioned a second player, Marquia Turner, who she believes will also be a key contributor this season.
"We have a new young lady come in, Marquia Turner (5'8" grad student), she came from Xavier (OH). She'll definitely be vocal; be aggressive. And, wherever we put her, she's ready to play."
"So, we have a few young ladies. I can go on down our list; but, I think Niya and Marquia Turner will definitely be two that should get us on the right track. Get us on the right page and move us in the right direction to grow and get better daily."
In addition to Mitchell and Turner, Perry will look to Richelle Velez to knock down shots on the perimeter.
"Richelle Velez (5'7" junior guard), she definitely can shoot," Perry said. "She likes off the ball; and, she can keep offensive players in front of her."
This year, Texas Southern should have more scoring options than last season when Joyce Kennerson averaged 24.1 points per game. At times last season, Kennerson was TSU's offense.
"I definitely think we're more balanced for sure," Coach Perry mentioned. "The three fifth-years are all guards that we brought in. We can stretch the floor out and shoot a little better.
"We're in a better situation than we have been with sharing the ball and not expecting one or two people to show up for us," Perry said candidly. "Again, we're real excited about the opportunities that they may and should give us in the near future."
"I think we're more balanced than we've ever been; but, I do think our strength will be in our guard play," Perry summarized. "Some of our guards can play off the ball pretty well. They can go to the four spot; so, that helps us a little bit. We did sign two young post players (Ryann and Lauren Lewis): 6'3" twins from Colorado with good size; so, that will help as well. And, we return three post players from last year; so, that consistency with them returning and with them growing and being better, definitely makes our team better. We should be pretty balanced."
Perry summed up her feelings about the 2018-'19 team this way:
"I really, really like this group because it's definitely a family atmosphere. They are friends. When they get on the court, they want to play; and, they play hard. So, again, it's all new to us. And, we're just happy to finally get started and truly to be on the floor to work to get better everyday to prepare for November 8th (at Tulane) and working up to January (SWAC play)."
Texas Southern's season opener is Thursday, November 8, at Tulane.
CLICK HERE for more NCAAW news and info.
Subscribe in a RSS Feeds reader