Prairie View A&M Head Coach Sandy Pugh: "This is definitely the fastest team I've ever coached."

October 19, 2018 -- 11:45 a.m.
Sandy Pugh has coached a lot of places and for a few years during her successful coaching year. During Thursday's SWAC coaches teleconference, Coach Pugh made a surprising statement about her 2018-2019 Prairie View A&M Lady Panthers squad:
"This is definitely the fastest team I've ever coached," Pugh said point blank.
Consider after Pugh's head coaching tenure at Southern University from 2000-2018, where she led Southern to seven SWAC regular season titles; four SWAC Tournament titles; four NCAA Tournament appearances; and four appearances in the WNIT, Coach Pugh knows basketball.
The 2018-'19 season is Pugh's first year at Prairie View; but, she did not inherit an empty cupboard.
Senior guard Shala Dobbins and sophomore post Jhyrah Cobb were named to the SWAC's Preseason First Team Thursday morning.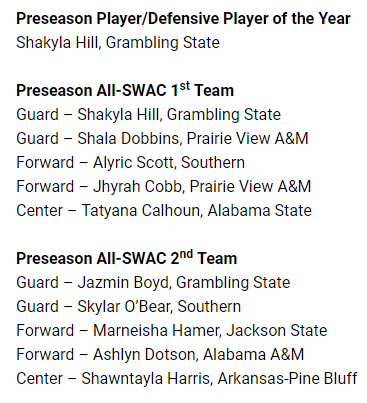 Coach Pugh is excited and looking forward to the 2018-'19 season.
"I'm real excited about the possibilities," Coach Pugh commented. "I think we have all the pieces to puzzle. We just have to learn how to play together and how to put it together; so, I'm excited.
"I think the outlook for us here is the sky's the limit. This is definitely the fastest team I've ever coached," Pugh acknowledged. "We can get a lot of places in a hurry. I just don't know what's going to happen when we get there; but, I'm definitely optimistic."
Pugh's 2017-'18 squad was fast; but, she says this year's PV squad is faster.
"Last year's team (at Southern), I coined the term 'Mayhem' to play hard; play fast," Pugh stated. "This year, it's like 'Mayhem' on steroids. This team is so much faster.
"Bernie (5'4" senior guard Bernesha Peters), she won't be ready to go until December; but, she is a-plus speed. Everybody knows what Shala (Shala Dobbins, 5'6" senior guard) can do. She's worked really hard on going left and right. The Ford kid (Artavia Ford, 6'3", senior post). I think she's a pro. (Jhyrah) Cobb is coming along and developing. Ke'Asia (Ke'Asia Ford, 5'9", junior forward) from Blinn. She's strong and can do some great things. She can shoot the three ball.
"I'm just excited about what the possibilities can be with what we can do in an open court kind of situation and in the halfcourt," Pugh said proudly. "I think we can play any style of game.
PV begins the 2018-'19 season, Friday, November 5, in a home game versus Jarvis Christian. Tip is set for 5 p.m. After the home opener, PV heads to Stillwater, OK, to play Oklahoma State, Thursday, November 15, at 7 p.m.
CLICK HERE for more NCAAW news and info.
Subscribe in a RSS Feeds reader