American Athletic Conference Announces 2020-21 Men's Basketball Schedule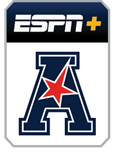 POSTED: November 20, 2020 -- 3:40 p.m. CT
The American Athletic Conference has announced its 2020-21 men's basketball conference schedule.
For the first time in conference history, the format consists of a 20-game, double round-robin conference schedule for each of The American's 11 member institutions.
The 2020-21 season will be The American's first under its 12-year media rights extension with ESPN, which will allow for a minimum of 60 conference-controlled games to be televised on either ESPN, ESPN2, ESPNU or ABC. A minimum of 23 of those games will be on either ESPN, ESPN2 or ABC.
The American additionally has secured a multi-year extension of its media rights agreement with CBS Sports, with the network maintaining first selection rights.
Approximately 50 percent of The American's men's basketball slate will be featured on linear television, including CBS, ESPN, ESPN2 and ESPNU.
The remaining conference-controlled games will be on ESPN+, ESPN's direct-to-consumer streaming service which reaches more than 10.3 million subscribers and is available HERE. For more information on ESPN+, visit The American's Fan Guide to ESPN+.
All games that are televised on an ESPN network will also be available through the ESPN App, computers, smartphones, tablets and streaming devices to fans who receive their high-speed Internet connection or video subscription from an affiliated service provider.
---
SUPPORT The Houston Roundball Review via PayPal or via the Cash App.
OR get the Disney bundle:
Get ESPN+, Disney+, and Hulu!!! Save 30% when you bundle all three and get the best movies, shows & sports.
CBS Sports' broadcast coverage will be available to stream live via the CBS All Access subscription service.
---
Conference play is slated to begin Tuesday, December 15, with Houston and Tulsa, which along with Cincinnati, tied for last season's regular season championship. The Cougars, picked as the preseason favorite this season, will host UCF, while the Golden Hurricane will entertain Wichita State.
Cincinnati plays at Houston on Saturday, January 23, while the Cougars travel to Fifth Third Arena on Sunday, Feb. 21. Houston will travel to the conference's preseason No. 2, Memphis, in its regular-season finale on Saturday, March 6 or Sunday, March 7.
The American Athletic Conference Men's Basketball Championship will take place March 11-14 at Dickies Arena in Fort Worth, Texas. All games of the championship will be televised on either ESPN, ESPN2 or ESPNU, including the championship final on ESPN.
Game times and television information will be announced at a later date. As television assignments are procured, there may be changes to game dates.
CLICK HERE for more NCAAM news and info.
Subscribe in a RSS feeds reader
Get NCAA men's hoops news from The HRR by Email