Michael Weathers announces transfer to Texas Southern

POSTED: August 20, 2019 -- 12:45 p.m. CT
Earlier today, Michael Weathers announced he is transferring to Texas Southern University to continue his athletic and academic career. Weathers will be a walk-on for TSU Head Coach Johnny Jones and the Tigers' basketball program.
Weathers', 6'2", 185, time away was due to his own actions.
Earlier this year, January 16, Weathers, Maurice Calloo, and Kentrevious Jones were dismissed from Oklahoma State University due to violating team rules. March 6, 2019, the Oklahoman reported the three were "dismissed the team in January following a vandalism incident have been charged with nine counts of malicious injury to property."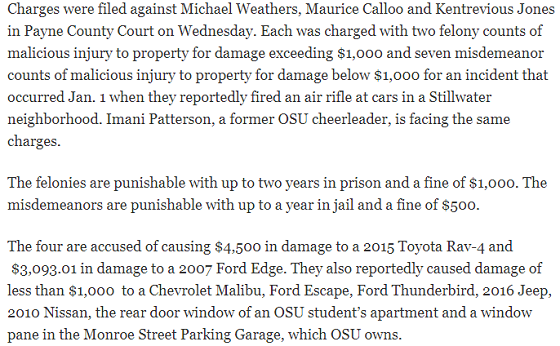 ---
Get ESPN+, Disney+, and Hulu!!! Save 25% when you bundle all three and get the best movies, shows & sports.
---
The January 1 incident is Weathers' second incident within a few months. According to The Tulsa World, "Weathers was arrested outside a Stillwater bar on Sept. 9 after allegedly stealing a woman's wallet and using a debit card in it to pay for drinks at the bar. He was suspended from team activities immediately, but (OSU Head Coach Mike) Boynton reinstated him after his felony charge was reduced to a misdemeanor."
Weathers transferred to Oklahoma State after his freshman season at Miami (OH). Weathers was named Mid-American Conference Freshman of the Year for the 2016-17 season. In 32 games (30 starts) for the RedHawks, Weathers averaged 16.7 points per game, 4.8 assists, 1.9 steals, and 1.4 blocks per game his freshman season.
He sat out the 2017-'18 season due to NCAA transfer rules. Before being dismissed from OSU, Weathers played 16 games (0 starts) for Oklahoma State and averaged 9.2 points, 2.8 rebounds, 2.1 assists, and 1.1 steals per game.
After OSU dismissed Weathers, Weathers committed to Nicholls State but decommitted Nicholls State on February 19.
Weathers has two years of college eligibility remaining.
CLICK HERE for more NCAAM news and info.
Subscribe in a RSS feeds reader
Get NCAA men's hoops news from The HRR by Email