HBU Signs Jason Thompson Jr to National Letter of Intent

Thompson: "Where I come from family means a lot and I feel like HBU is a great place to start a second family."
POSTED: May 15, 2019 -- 4:52 p.m. CT
Ron Cottrell, James Sears Bryant Head Men's Basketball Coach at HBU (click HERE to read more about the endowment established for the head coaching position), announced the signing of Jason Thompson, Jr to a National Letter of Intent on Wednesday afternoon, bringing the Huskies' recruiting class for the upcoming 2019-20 season to five.
Jason announced his commitment to the Huskies earlier today:
Thompson, a 6'7" wing from United Faith Christian Academy in Charlotte, NC. As a senior, Thompson averaged 14 points, eight rebounds, six assists and two blocks.
Coach Cottrell said of Thompson, "We are thrilled to add Jason Thompson as the final signee of the 2019 recruiting class. Jason is another highly thought of recruit out of the state of North Carolina. He has spent most of his career as a lefty point guard before going through a growth spurt a couple of years ago. His experience as a point guard gives him a skill set and mental approach that differs from most wing players. Jason's basketball IQ, passing skills, defensive intensity and ability to get to the rim are all terrific. We feel he will fit in well on our campus, both in the classroom and culturally. It's great to add another Tar Heel State player who is so highly decorated on the court and with such impeccable character."
---
In March 2019, ESPN marketing contacted me about partnering to get people to sign up to ESPN+. (Partnering means I receive a commission when someone signs up to ESPN+.)
Sign up to ESPN+; and, at the same time, support The Houston Roundball Review (me) continue the work which began in 1994.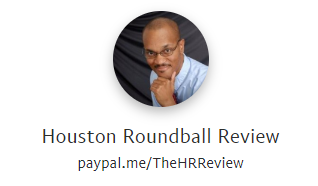 Stream live sports and ESPN originals PLUS receive the ESPN Insider when you subscribe to ESPN+ for only $4.99 a month.
---
CLICK HERE for more NCAAM news and info.
Subscribe in a RSS feeds reader
Get NCAA men's hoops news from The HRR by Email