Houston Cougars finish season 12th in Coaches' Poll

The Saxenian Family
UPDATED: April 10, 2019 -- 9:01 a.m. CDT
POSTED: April 9, 2019 -- 5:34 p.m. CDT
The Houston Cougars (33-4) end the 2018-'19 season ranked 12th in the USA Today Coaches Top 25 national poll.
Houston received 470 points to rank No. 12 in the Week 20 USA TODAY Coaches' Poll (494 points and 9th in the Week 19 poll). This marked the 16th consecutive week in which the Cougars were ranked in 2018-19.
In the Associated Press' final Top 25 poll of the season on March 18, Houston ranked 11th.
It also marked the first time since 1983-84 that the Coogs were ranked in both final national polls in consecutive seasons. A year ago, the Cougars ended the year at No. 21 in the Associated Press poll and at no. 22 in the final USA TODAY Coaches' poll.
---
The Saxenian Family
---
Coogs ranked in several 2019-'20 Way-Too-Early Top 25 Polls:
No. 12 in CBSSports.com by Jon Rothstein:
No. 17 in Stadium Top 25 by Jeff Goodman:
No. 17 in The Sporting News Top 25 by Mike DeCourcy:
No. 18 in The Athletic Top 25 by Seth Davis:
No. 18 in SB Nation Top 25 by Mike Rutherford:
No. 18 in CBSSports.com Top 25 by Gary Parrish:
No. 20 in ESPN.com Top 25 by Jeff Borzello:
---
The Saxenian Family
---
Coogs in 2019-'20 Way-Too-Early Bracketology:
No. 2 seed in East Region in ESPN Bracketology by Joe Lunardi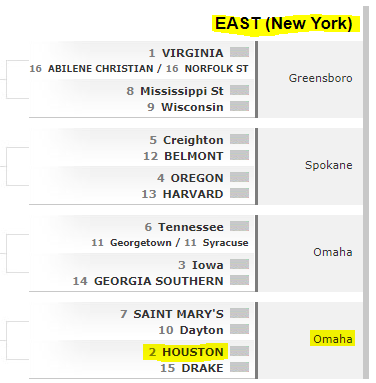 NOTE: Initially, I thought Lunardi made a mistake placing 2-seed Houston in the East Regional rather than in Houston in the South Regional; however, I contacted the NCAA for clarification regarding whether or not a school can be assigned to a regional site in the same city the school is located. Here's the answer:
'If they are the host institution or play more than three games in the building, they can't be assigned to that regional.' -- University of Houston IS the host institution for the South Regional. Therefore, Coogs cannot be assigned to Toyota Center -- home of the South Regional in 2020.
CLICK HERE for news and info about the Coogs' men's basketball team.
Subscribe in a RSS feeds reader
Subscribe to The HRRs write-ups of Houston Cougars men's basketball games by Email