AAC, ESPN Agree To 12-Year Media-Rights Deal Worth $1B
March 19, 2019 -- 6:25 p.m. CDT
If Sports Business Journal's By Michael Smith and John Ourand are correct (and, I have yet to hear they are not correct), the American Athletic Conference and ESPN have agreed to a 12-year media rights deal worth $1 billion. One billion dollars is definitely a lot of money; but, compared to the media rights deals signed by the big boys, a.k.a., the Power 5 conferences, the amount pales in comparison.
According to Smith and Ourand, "The average of $83.3M per year is about four times what the AAC was making in its previous rights agreement with the net, which paid the league just over $20M annually. The new agreement begins in '20-21 and runs through the '31-32 academic year.
"The annual per-school average of $6.94M provides each AAC school with nearly $5M more in annual revenue. They did not sign a grant of rights, which would have restricted them from jumping to a conference in the Power Five. SBJ reported in December that the AAC was considering a grant-of-rights, which effectively turns over a school's media rights to the conference."
Six point ninety-four million dollars is an increase over the current $1.7 million per school per year. But, let's compare that to what the Atlantic Coast Conference (ACC), Big Ten, Big Twelve, Pac-12, and Southeastern Conference (SEC) receive per school per year.
According to Jon Wilner of the San Jose Mercury News, the "projections for 2018, distributions of more than $50 million would give the Big Ten a sizable revenue advantage over schools from the SEC (approximately $43 million each), the Big 12 ($36.5 million), the Pac-12 ($32 million) and the ACC ($28 million)."
Clearly, the AAC's new media rights deal is not in the same neighborhood as the Power 5 conferences.
But, for more details about programming and content, let's return to the Smith and Ourand article in the Sports Business Daily: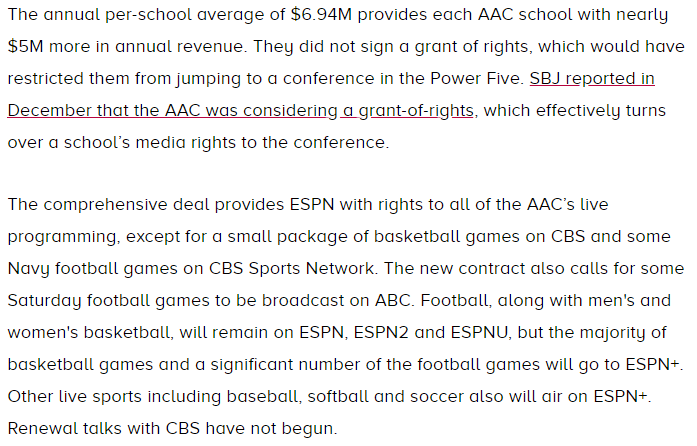 Fans, followers, alums, etc. of AAC member schools will have to decide whether or not to purchase ESPN+ to see "the majority of basketball games and a significant number of the football games".
The deal has not been announced; and, no one from the AAC nor ESPN has commented.
Personally, I believe twelve years is too long for anyone to agree to anything. Technology and the tv / streaming landscape may evolve a few more times during the next twelve years which could make this AAC / ESPN deal obsolete. The $6.94 million per year per member school is an increase; but, it's far, far away from being part of a "Power 6".
Stay tuned.
CLICK HERE for more NCAAM news and info.
Subscribe in a RSS feeds reader
Get NCAA men's hoops news from The HRR by Email