Texas Southern defeats Baylor, 72-69

November 6, 2018 -- 11:35 p.m.
Johnny Jones' tenure as Head Coach of Texas Southern men's basketball began with a big win in Waco Tuesday night as the Tigers defeated the Baylor Bears 72-69.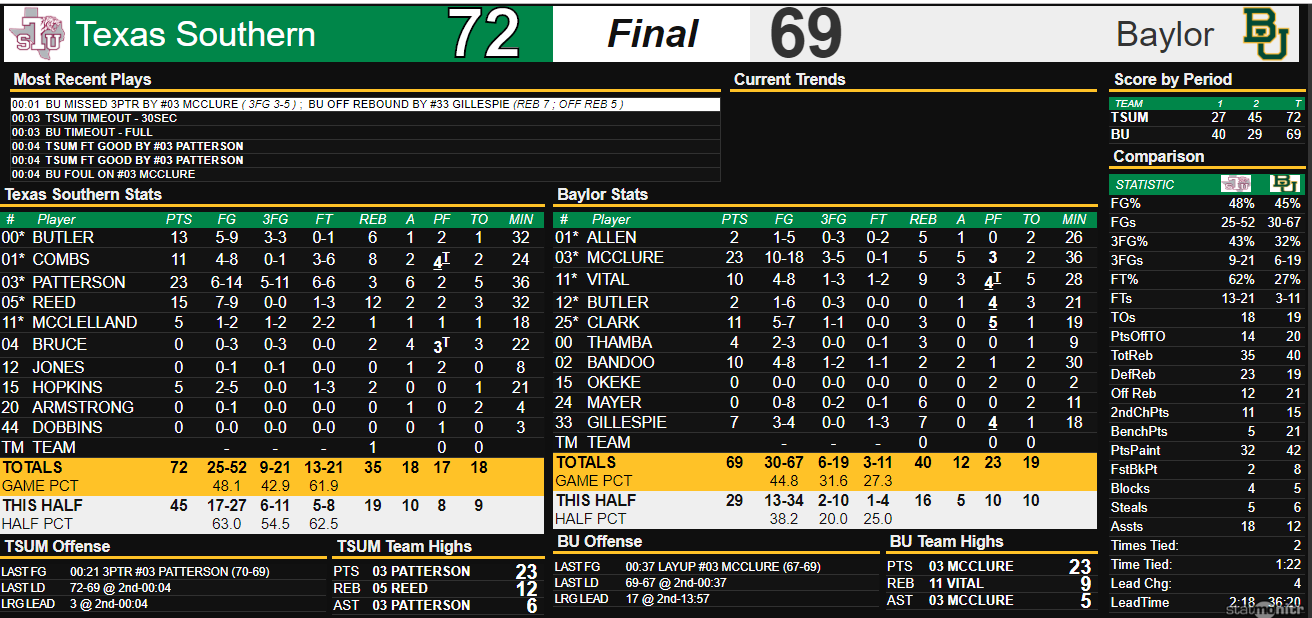 The Tigers trailed the Bears 55-38 with 13;57 remaining in the game.
Graduate transfers Jaylyn Patterson and Jeremy Combs combined to score the Tigers' final 17 points in the ball game. Patterson scored a team-high 23 points for the Tigers -- including the Tigers' final 8 points.
Patterson sank a three-point shot to tie the game at 67. Then, after Baylor scored for a 69-67 lead, Patterson answered with another three-point shot to put the Tigers ahead 70-69 with 21 seconds remaining.
On Baylor's next possession, King McClure missed a lay-up; however, Texas Southern's Derrick Bruce was whistled for a foul on Mark Vital which sent Vital to the line for one-and-one. Vital missed the shot; but, teammate Freddie Gillespie committed a lane violation which gave the ball to Texas Southern with 4.4 seconds on the game clock.
The Bears fouled Patterson; and, Patterson sank both foul shots. The Bears passed the ball into the frontcourt before calling timeout with 3.7 seconds remaining to set up a final play.
After Baylor's timeout, Texas Southern called a 30-second timeout. After TSU's timeout, Baylor inbounded the ball to McClure. McClure attempted a three-point shot; but, Combs appeared to tip the shot and the shot fell short clinching the win for the Tigers.
The Tigers start the season 1-0. Next up for the Tigers: at Gonzaga, Saturday, November 10.
CLICK HERE for more NCAAM news and info.
Subscribe in a RSS feeds reader
Get NCAA men's hoops news from The HRR by Email