Texas Southern's Johnny Jones on Trayvon Reed: "we look forward to trying to build this team around him."

October 25, 2018 -- 9:58 a.m.
Last week Texas Southern big man Trayvon Reed, 7'2", 240, was named the SWAC's Preseason Defensive Player of the Year and the center on the SWAC's Preseason All-Conference First-Team.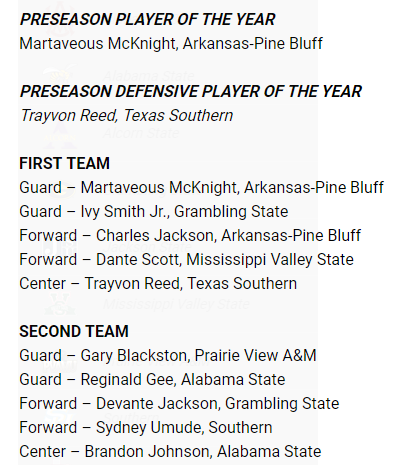 Reed blocked 3 shots per game and pulled down 8.8 rebounds per game. He also shot 68.4% from the floor. Reed did average 1 foul per 9 minutes; so, he'll need to do a better job keeping himself on the court and avoiding fouls.
Johnny Jones, TSU's new head coach is looking forward to coaching Reed.
"I can tell you, from Day one from having him, his ability; his talent level; his shot-blocking ability; ability to score around the rim and rebound the basketball is something, that we think, will have an opportunity to impact this basketball team," Coach Jones proclaimed. "We just want to make sure we can shore up the good things that he can do around the rim and to continue to improve those areas and make sure we stay away from the areas that he's not effective."
Ironically, Jones recruited Reed when Trayvon was in high school.
"I loved Trayvon Reed's game when he was in high school," Coach Jones said. "I actually tried to recruit him out of high school. Unfortunately, we lost that battle; but, really excited about the prospect of having the chance to coach and lead him."
Reed's height and skillset, along with coaching from Johnny Jones, should allow The Little Dipper (as Houston sports icon Ralph Cooper refers to Reed) to excel in 2018-'19.
Coach Jones concluded: "We certainly feel that he can impact the game on both ends of the floor; and, we look forward to trying to build this team around him."
CLICK HERE for more NCAAM news and info.
Subscribe in a RSS feeds reader
Get NCAA men's hoops news from The HRR by Email