Prairie View Head Coach Byron Smith discusses Gary Blackston as face of PV program and impact newcomers

October 20, 2018 -- 7:32 a.m.
Prairie View A&M senior guard Gary Blackston (6'2, 185) had a great junior season. Blackston averaged 19.2 points per game and was named to the Southwestern Athletic Conference All-Conference Second Team last year. This season, Blackston has been named to the SWAC's Preseason Second Team which indicates the SWAC coaches expect for Blackston to continue last season's success in the 2018-'19 season.
PV Head Coach Byron Smith describes Blackston as the face of the Prairie View men's basketball program; and, Smith also hopes this year's newcomers will have a similar impact on this year's team as Blackston did last season.
"He (Gary Blackston) means a lot," Coach Smith said during a SWAC conference call. "I mean, obviously, he's the face of the program. I think he surprised a lot of people last year - especially, in the non-conference. Coming from Angelina Community College, they played with a very talented group; and, he was the third or fourth option. But, coming here, he had to be the number one or number two who we go to; who we depend on for production."
Coach Smith believes Blackston's success surprised people last season. But, Smith says the team will need Blackston to do more this season for the Panthers -- on offense and defense.
"I think he surprised a lot of people. He had a really good offseason. He added some weight. Some strength. I should say. Really took care of his body. He works hard in the weight room. He's really made a concerted effort of hitting the weight room really hard. Kind of changed his diet a little bit.
He looks a little better," Smith continued. "He looks like a basketball player now. Really working hard on getting better on the defensive side. Trying to become the quintessential two-way player that everyone talks about now in our sport. He's been doing a good job thus far. I'm really looking forward to seeing how well how much he can impact this year. We're definitely going to need him to do that."
Smith and his coaching staff signed 8 newcomers for 2018-'19; and, while Smith hopes all of the newcomers will help the Panthers this season, he mentioned four newcomers specifically who he believes will be impactful this season.
"I hope all of them," Coach Smith acknowledged. "But, just, on paper, Devonte Patterson, 6'7.5" (junior forward). Kind of multi-dimensional from Ranger Junior College. Tough kid. We're very fortunate to get him. We had a few mid-major programs to compete with to win his services. Hopefully, he'll have a big impact.
Smith continued, "Taishaun Johnson, a grad transfer from Kent State. He's 6'1". Kind of a combo guard. Left-handed kid that can really score the basketball. He's got a lot of experience.
"Darius Williams (6'0" junior guard)," added Smith. "He's one of the better diminutive, small combo guards from Paris Junior College. He was one of the better junior college guards in the state of Texas last year.
Smith concluded, "Last, but not least, Gerard Andrus. A 6'5" kid out of Lafayette, Louisiana, by way of Feather River Community College in California. He's one of the top junior college players in the state of California last year. He's kind of a 2, 3, 4 kind of a player. A tough kid. A big kid.
Smith summarized, "Those four guys are expected to impact right away. That's our hope."
The Panthers were picked fourth in the SWAC Preseason Coaches Poll.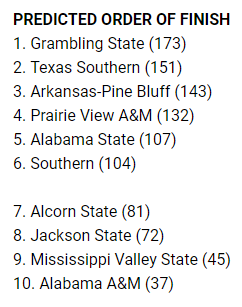 The Panthers do not play a single home game during the non-conference portion of the schedule.
"You always want to schedule the big boys, if you will, to make sure you're battle-tested when you go into conference play. I think the only difference is we won't travel as far away. Last year, we spent 13 days out on the West Coast. That was a bit much; but, it was helpful to us.
"But, we'll play equally as tough a schedule this year. But, we just won't travel so far away. More Midwest and in the South. In Texas and Louisiana and Carolina and Georgia. But, it will be a tough schedule. We're hopeful, as always, that it will get us prepared for the big test which will be January 5th (at Southern)."
The Panthers' 2018-'19 season begins November 9, at Santa Clara.
CLICK HERE for more NCAAM news and info.
Subscribe in a RSS feeds reader
Get NCAA men's hoops news from The HRR by Email