Russell Westbrook: "We know we couldn't put every, single name on it."
Posted: July 22, 2020 -- 12:39 p.m. CT
During media availability Wednesday morning, Russell Westbrook wore a black t-shirt honoring Black Americans who were victims of social injustice: Ahmaud Arbery, Sandra Bland, Michael Brown, Terence Crutcher, George Floyd, Eric Garner, Trayvon Martin, Tamir Rice, Breonna Taylor, and Pamela Turner.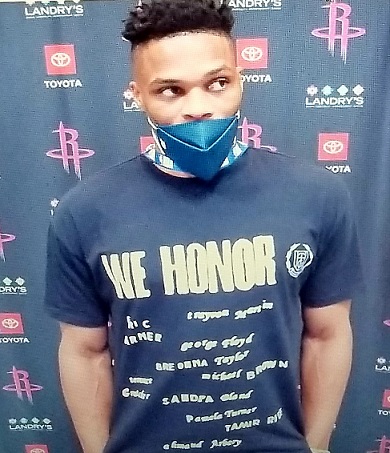 Westbrook discussed the significance of the shirt:
"I wanted to be, number one, be able to show my respects, my gratitude towards the families, obviously, on the front of the shirt. But, there are, obviously, names that are not on it. We know we couldn't put every, single name on it.
"Then, on the back, I wanted to be able to give our guys in the league a message that they weren't allowed to be able to put on their jersey; but, some of the messages that they did want that I did know about internally. I just wanted to give guys another way to speak and use their voice without actually talking.
"It's something that I'm most personally proud of that I've done thus far with my brand especially something that I plan and take action in any way that I can to find ways to be able to continue to make sure our voices are heard and we find ways and make change to get justice for a lot of these people on the front of the shirt and names that are not here as well."
---
SUPPORT The Houston Roundball Review:
Purchase your Houston Rockets' gear at Fanatics.com via this link;
Get ESPN+ via this link;
Save when you get the Disney bundle (ESPN+, Disney+ and Hulu) with this link;
OR, contribute via PayPal or the Cash App.
---
Earlier this month, the NBA and the National Basketball Players Association agreed on social justice messages which can be displayed on the back of NBA jerseys.
According to ESPN's March Spears, the list of the approved suggested social messages, for the back of the NBA jerseys are: Black Lives Matter; Say Their Names; Vote; I Can't Breathe; Justice; Peace; Equality; Freedom; Enough; Power to the People; Justice Now; Say Her Name; Sí Se Puede (Yes We Can); Liberation; See Us; Hear Us; Respect Us; Love Us; Listen; Listen to Us; Stand Up; Ally; Anti-Racist; I Am A Man; Speak Up; How Many More; Group Economics; Education Reform; and Mentor.
However, some NBA players wanted to have different names of messages on their jerseys.
Earlier this week the NBPA announced a partnership with Westbrook and his clothing brand, Honor the Gift, to design 10 different shirts for the players to wear in Orlando during the NBA Restart.
The back of each shirt will have one of the following messages: Systemic Racism, Police Reform, I Can't Breathe, No Justice No Peace, Break the Cycle, Strange Fruit, By Any Means, Power to the People, Equality and Am I Next?
The shirts were designed to allow players to, "shed light on social injustice, and honor the victims and families of those who continue to inspire us."
CLICK HERE for Rockets' news and information.