Rockets edge Warriors 112-108 in Game 4 to tie series 2-2
Posted: May 7, 2019 -- 7:54 a.m. CT
HOUSTON, TX (Toyota Center) -- The Houston Rockets survived 1 for 12 three-point shooting in the fourth quarter to edge the Golden State Warriors 112-108 Monday night in Game 4 of their 2019 NBA Playoffs Western Conference Semifinals series. With the win, the Rockets even the best-of-seven series against the Warriors 2-2 after losing the first two games of the series.
"It's 2-2, each team has won two home games," Steve Kerr, Golden State's Head Coach said. "So, this is kind of how the playoffs go. Especially, when you have two great teams playing against each other. We just have to be a little bit better and we'll regroup and go home and try taking care of business there."
James Harden had a game-high 38 points and a game-high tying 10 rebounds, marking the 21st double-double of his playoff career.
Houston led Golden State 93-84 after three quarters before stretching the lead to 101-86 with 9:12 remaining in the fourth quarter. The lead was 10 (106-96) with 4:03 on the clock.
Harden knocked down a 13-foot jumper for 108-99 lead with 3:21 remaining; then, Chris Paul swished a 10-foot floater in the paint for a 110-101 lead at the 2:31 mark. The lead seemed safe; however, Houston missed its last 4 field goal attempts in the game which gave Golden State life.
Kevin Durant knocked down a 17-foot pull-up jumper; Draymond Green raced up the court after a missed shot and scored to cut Houston's lead to 110-105 with 99 seconds remaining.
Harden missed a step back three-point attempt; but, PJ Tucker secured the rebound. Tucker missed a three-point shot which Green rebounded and quickly dribbled up the court and lofted a shot attempt which rolled off the rim. The missed shot preserved Houston's five point lead with 50.1 seconds remaining.
Harden missed another step back three-point shot; and, Golden State's Klay Thompson grabbed the rebound which set up a frantic finish.
---
In March 2019, ESPN marketing contacted me about partnering to get people to sign up to ESPN+. (Partnering means I receive a commission when someone signs up to ESPN+.)
When you sign up to the free trial offer, you are supporting The Houston Roundball Review (me) continue the work which began in 1994.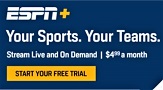 Stream live sports and ESPN originals on ESPN+ for only $4.99 a month. Start your 7-day free trial today! (Click this link to sign up for ESPN+; you will be asked to input payment info; but, you WILL NOT be charged if you cancel within 7 days. As long as you click the link and sign up (cancel tomorrow if you prefer), I earn the commission.
---
Steph Curry launched a 33-foot three-point attempt; but, Andre Iguodala pulled down the rebound and passed to Curry for another shot. This time, Curry sank the three-pointer to slice Houston's lead to 110-108 with 19.3 seconds on the game clock.
Golden State was forced to foul. Harden went to the foul line. Harden made the first foul shot but missed the second free throw attempt. Iguodala rebounded the miss and Golden State called timeout with 11.1 seconds on the clock.
With a three point lead combined with Golden State's lethal three-point shooters, signs pointed to Houston's fouling the Warriors before allowing a game-tying three-point shot. However, after the timeout, Golden State executed a great side-out-of bounds play which left Durant wide open for a three-point shot to tie the game.
Durant missed.
Green rebounded the miss. Steph Curry got behind a screen and had a good look to tie the game with a three. His shot missed.
"They were solid looks considering the situation – down three with a chance to tie it up," Curry said after the game. "They didn't go our way. I liked the fight that we had and it comes down to that possession; but, over the course of the game there were a lot of things that we can do better on both ends of the floor to give ourselves a chance to win the next two games. They did what they're supposed to do. They protected their home court and we have to do that again on Wednesday, and just continue to elevate our game."
Considering the good looks Curry and Durant got to tie the game, Austin Rivers thought the game was heading to overtime.
"I thought it was going to overtime. 100 percent," Rivers acknowledged. "K.D. (Kevin Durant) got one and I'm like 'come on man'. And, then, Steph (Stephen Curry) got one. The fact that he wasn't open and it was like a crazy shot, those are the ones that he would hit. We are fortunate. We put ourselves in a position to win. We messed up there, we should have won the game tonight. We played harder, I thought, and we did a good a job."
Chris Paul grabbed the miss and was fouled. Paul missed the first free throw then made the second attempt to ice the game and clinch the four point win.
Once again, Tucker was huge for the Rockets: Tucker had 17 points and a game-high tying 10 rebounds, marking his third double-double this postseason and his second this series.
Tucker's defense, energy, and rebounding have helped Houston tie the series 2-2.
Chris Paul said of Tucker, "We always talk about will, I mean people do, and I can see Tuck (P.J. Tucker) a lot of times because I'm on the wing or the corner, going after the ball, you can just see it. There is just a difference, when he dives on the floor. That energy fuels everybody else."
"I mean, that's what he does," Harden said of Tucker. "He plays his butt off every possession. "His talent is playing hard, so he brings that every night. We expect it from him, there's no let downs from what he brings to the game. We can count on that every night and tonight he made some big shots."
NOTES:
Houston hit 17 3-pointers (50 attempts) tonight while Golden State made 8 (33 attempts). That is tied for the second-biggest differential in 3-pointers made by a Warriors opponent in their playoff history (+13 by Cleveland on 6/9/17) and +9 by Phoenix on 5/13/89). Houston has made 26 more threes than Golden State in the four games this series. The Rockets only had one more made three than the Warriors over the 7-game Conference Finals in 2018.
The Rockets won despite being outshot 46.7% to 43.8%. Dating back to the 2015 playoffs, the Warriors are 64-7 when outshooting their opponent. Four of those seven losses have been vs. Houston. Dating back to the 2018 playoffs, the Rockets are 8-6 when shooting below 45.0% after losing 13 of their previous 16 playoff games when doing so from 2015-2017.
NEXT:
Game 5 is Wednesday night, in Oakland, at 9:30 p.m.
CLICK HERE for The HRR's Rockets' write-ups.
Subscribe in a reader
Subscribe to get The HRR's Rockets games' write-ups by Email