Rockets outlast Warriors with 126-121 Game 3 win in Overtime
Posted: May 5, 2019 -- 8:48 a.m. CT
HOUSTON, TX (Toyota Center) -- James Harden and Eric Gordon outdueled Kevin Durant and Draymond Green Saturday night in the Houston Rockets' 126-121 overtime win in Game 3 of the 2019 NBA Western Conference semifinal series.
Harden (41) and Gordon (30) combined for 71 points while Durant (46) and Green (19) combined for 65 points. With the win, the Rockets now trail the best-of-seven series against the Warriors 2-1.
"I think no matter what line up we have out there, we have to have a defensive presence," Harden said. "They're so good, especially offensively, you make mistakes, they (the Warriors) make you pay for it. So, no matter what line up, whether it's Clint (Capela), whether it's Nenê, whether it's small, five guards or four guards and Tuck (P.J. Tucker), you're going to make sure you communicate, you're going to make sure you're into bodies, and be physical. That's what it is and that's what we preach every day."
Gordon's 30 points are a playoff career-high for him.
"I have to do that every game," Gordon said on the podium after the game. "It's all about bringing something to the table, offensively (and) defensively every single night, and give yourself a chance to win."
In addition to Gordon and Harden, PJ Tucker (12) and Clint Capela (11) combined for 23 of Houston's 55 rebounds as the Rockets dominated the Warriors on the boards 55-35 including 17-7 on the offensive boards.
"They outplayed us," Steve Kerr, Golden State's Head Coach said after the game. "They out boarded us by 20. They were the more physical-aggressive team right from the beginning."
Golden State started the game with hot shooting (5 for 6 from the floor) and eventually led Houston 20-11; but, Houston went on a 27-7 run in 9 minutes, 38 seconds to lead 38-27 at the 7:50 mark of the second quarter.
Houston outscored Golden State 33-23 in the second period and led 58-49 at halftime. Gordon scored 20 points in the first half.
Durant and Harden lit up the scoreboard in the third period. Durant scored 17 points in 11 minutes while Harden poured in 15 points in 11 minutes. The Warriors won the third 35-33 to slice Houston's lead to seven (91-84) after three quarters.
Durant continued his torrid shooting with 10 quick points in the first 1:57 of the fourth quarter. Durant's 10 points put the Warriors ahead 94-93 with 10:03 on the clock.
With 10:01 on the clock, PJ Tucker returned to the game. Tucker sat on the bench the last 10:48 of the third quarter and the first 1:59 of the fourth quarter when Durant exploded.
Sitting on the bench in foul trouble and watching Durant erupt, Tucker said he spoke to Head Coach Mike D'Antoni and the staff to put him in the game.
"I said something to Mike," Tucker acknowledged. "I said something to everybody."
Durant made only 1 of last 5 field goals in the fourth quarter and scored 2 points the rest of the quarter.
With Tucker in the game, Durant became more of a facilitator. He had 3 assists in the fourth period including two passes which led to three point baskets by teammate Andre Iguodala.
"He kept us from losing," Mike D'Antoni said of Tucker's performance. "Just every hustle play, every loose ball, every offensive rebound he got."
---
In March 2019, ESPN marketing contacted me about partnering to get people to sign up to ESPN+. (Partnering means I receive a commission when someone signs up to ESPN+.)
When you sign up to the free trial offer, you are supporting The Houston Roundball Review (me) continue the work which began in 1994.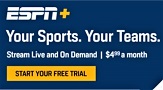 Stream live sports and ESPN originals on ESPN+ for only $4.99 a month. Start your 7-day free trial today! (Click this link to sign up for ESPN+; you will be asked to input payment info; but, you WILL NOT be charged if you cancel within 7 days. As long as you click the link and sign up (cancel tomorrow if you prefer), I earn the commission.
---
Houston's Austin Rivers hit a clutch three pointer for a 108-104 lead with 5:10 left in the fourth; but, Golden State's Klay Thompson answered with a three-point basket then two free throws for a 109-108 lead.
Chris Paul sank two foul shots to put Houston on top 110-109 before Iguodala's sank his second 3 of the quarter for a 112-110 Warriors' lead with 38.7 seconds remaining.
Harden tied the game with 2 free throws; and, after Durant missed a 18-foot pull up jumper, Paul attacked the basket with the game clock winding down. Thompson tied up Paul for a jump ball situation with 1.5 seconds remaining. The ball was tipped to Harden; but, the clock expired before Harden could attempt a shot which sent the game into overtime tied at 112.
Tucker scored the first 2 points of OT with a floater. Draymond Green split two free throws; then, Eric Gordon swished his seventh three-point basket for a 117-113 lead. Iguodala nailed a three-pointer.
Harden answered with a floater. Durant countered with a drive to the hoop for two.
Next, Tucker beat Durant baseline and scored a layup for a 121-118 Houston lead with 2 minutes remaining in OT.
Steph Curry missed a lefty layup. Harden missed a tough shot in the paint. Thompson missed an open midrange jumper.
Then, with 49.0 seconds remaining, Harden swished a three-point shot from the top of the key for a 124-118 Houston lead.
Golden State called timeout; and, after the timeout, Durant launched a three and was fouled by Rivers. Durant made all three foul shots; but, the Warriors did not score again in the final 47.6 seconds.
Harden scored a floater with 26.1 seconds remaining. Curry attempted a dunk attempt which was blocked by the rim to cap off a 7 for 23 field goal shooting night for him.
"Over the course of my 44 minutes, it wasn't my night," Curry said after the game.
After the game, Rivers said the Rockets still have work to do. Winning one game in this series is not enough.
"It's first to win four," said Rivers. "So, we've got a lot of work to do. We won one game; we've got to win four times. We've got three more games to win. We won tonight, it's a good start, we've got to keep going."
NOTES:
Eric Gordon has made at least 3 three-point shots in all eight games this postseason, tying for the third-longest streak in a single postseason in playoff history (Stephen Curry with a 10-game streak in both 2016 & 2017).
Houston hit 18 3-pointers on 42.9% shooting tonight and is averaging 17.5 threes made on 42.7% shooting over the past two games after making 14 threes on 29.8% shooting in Game 1. The Rockets improve to 12-5 when hitting 15 or more threes in the playoffs under head coach Mike D'Antoni (dating back to 2017) and 7-1 when shooting 40.0% or better from downtown.
NEXT:
Game 4 is Monday night at 8:30 p.m.
CLICK HERE for The HRR's Rockets' write-ups.
Subscribe in a reader
Subscribe to get The HRR's Rockets games' write-ups by Email