Maliyah Johnson's 24 points in 19 minutes leads Houston in 106-74 win over Grambling

POSTED: November 19, 2023 -- 11:50 p.m. CT
HOUSTON, TX (Fertitta Center) -- The Houston Cougars defeated the Grambling State Lady Tigers 106-74 Sunday afternoon to improve to 3-0 this season. This is the first time Houston has started a season 3-0 in Head Coach Ronald Hughey's time at Houston.
Houston's 106-74 victory over the Lady Tigers also marked the third time in program history that the Cougars scored 100+ points in back-to-back games since the 1995-96 season when they defeated Ohio State (Dec. 10, 103-95 OT) and Texas Southern (Dec. 16, 104-48).
The game was tied at 2 and again at 5 when Houston's Maliyah Johnson scored 8 of Houston's next 10 points during a 10-4 run to give Houston a 15-9 lead. Johnson scored 12 points in the first quarter. Houston led Grambling 30-18 at the end of the quarter.
Eight different Coogs scored in the second quarter. Houston point guard N'Yah Boyd scored 7 in the second period to help Houston outscore Grambling 29-16 in the quarter and lead Grambling 59-34 at the half.
Grambling (2-3) had 22 turnovers in the opening half; and, Houston converted those turnovers into 28 points. Houston outscored Grambling 28-1 in points off turnovers in the first 20 minutes.
Johnson scored 8 points in the third quarter; and, despite Grambling's 53.3 fg% (8 for 15) in the third, Houston won the third quarter 32-24 thanks to 72.2 fg% (13 for 18) shooting. The Coogs led 91-58 after three periods.
Houston cruised in the fourth quarter to win number 3 this season.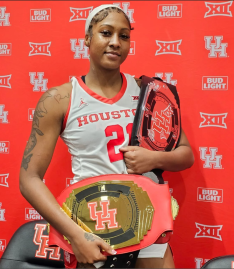 Johnson became the first Coogs this season to receive the "I'm Her" and the "Queen of the Boards" belts in the same game.
Laila Blair scored 19 points (7 for 12 field goals and 3 for 4 free throws). N'Yah Boyd added 13 points, 4 rebounds, and 6 assists while Kamryn Johnson scored 10 points, pulled down 9 rebounds, and added 5 steals.
Jones received the "Queen of Steals" belt after the game.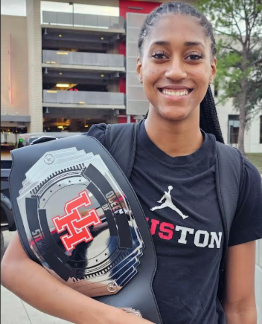 Houston's 3-0 start is its first 3-0 start since the 2010-11 season.
NEXT:
Houston's next game is Sunday, November 26, at home, versus New Orleans. Tip is set for 2 p.m. on ESPN+.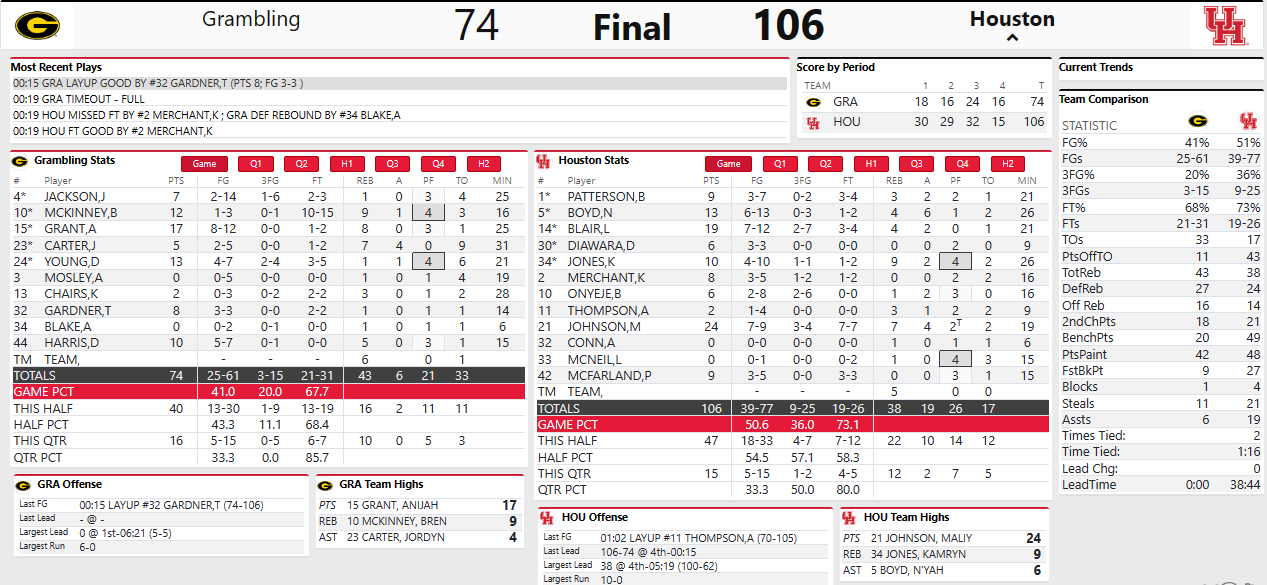 ---
SUPPORT The Houston Roundball Review:
Purchase your Coogs' gear at Fanatics.com via this link;
Get ESPN+ via this link;
Save when you get the Disney bundle (ESPN+, Disney+ and Hulu) with this link;
OR, contribute via PayPal or the Cash App.
---
CLICK HERE for The HRR's Houston Cougars' women's hoops write-ups.