Bria Patterson and Kierra Merchant each score 19 in Houston's 106-65 win over Sam Houston

POSTED: November 14, 2023 -- 11:50 p.m. CT
HOUSTON, TX (Fertitta Center) -- Graduate senior forward Bria Patterson and freshman guard Kierra Merchant each scored 19 points to lead the Houston Cougars to a 106-65 blowout victory over the Sam Houston Bearkats Tuesday night.
Houston's pressure defense swarmed all over the Bearkats and resulted in TWENTY-NINE first-half turnovers by the Bearkats. Houston outscored Sam Houston 29-6 in points off turnovers in the opening 20 minutes and led 60-16 at halftime. Houston had 15 steals in the first half.
Merchant scored 12 of her 19 points in the opening half; and, she has posted back-to-back solid games in her nascent college career. Merchant scored 13 points in her collegiate debut on November 10th versus Air Force.
"I've been feeling pretty confident. My teammates help me a lot," Merchant said shyly after the game. "I just want to keep getting better."
Merchant finished the game with 19 points, 7 rebounds, 6 assists, and 3 steals -- in 22 minutes off the bench.
Merchant, for her stat-stuffing performance was awarded Houston's "I'm Her" belt after the game.
Patterson added a team-high 9 rebounds to go with her 19 points while veteran point guard N'Yah Boyd had a team-high tying 6 steals.
Patterson received the "Queen of the Boards" belt for her 9 rebounds and Boyd received the "Queen of Steals" belt.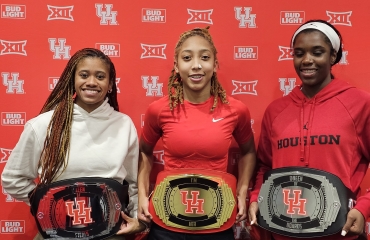 "I was actually kind of surprised when they brought the WWE belts," Patterson remarked. "But, I like it a lot. I told them I was going to get a belt today; and, I did because I got the 'Steals' one last time."
Houston was whistled for 27 fouls; and, the Bearkats attempted 37 free throws (made 29); but, the Coogs cruised to the victory.
"We fouled too much, definitely," Ron Hughey, Houston Head Coach mentioned after the game. "They were 29 for 37; so, we fouled a lot. But, all-in-all, they had an opportunity to play a game like that; grow some confidence; and, that's what we wanted to do and come out with a win."
Houston's 106-65 victory marked the program's first 100+ point scoring game since the 2009-10 season when it defeated North Texas, 104-65 on Dec. 5, 2010.
NEXT:
Houston's next game is Sunday, November 19, at home, versus Grambling. Tip is set for 2 p.m. on ESPN+.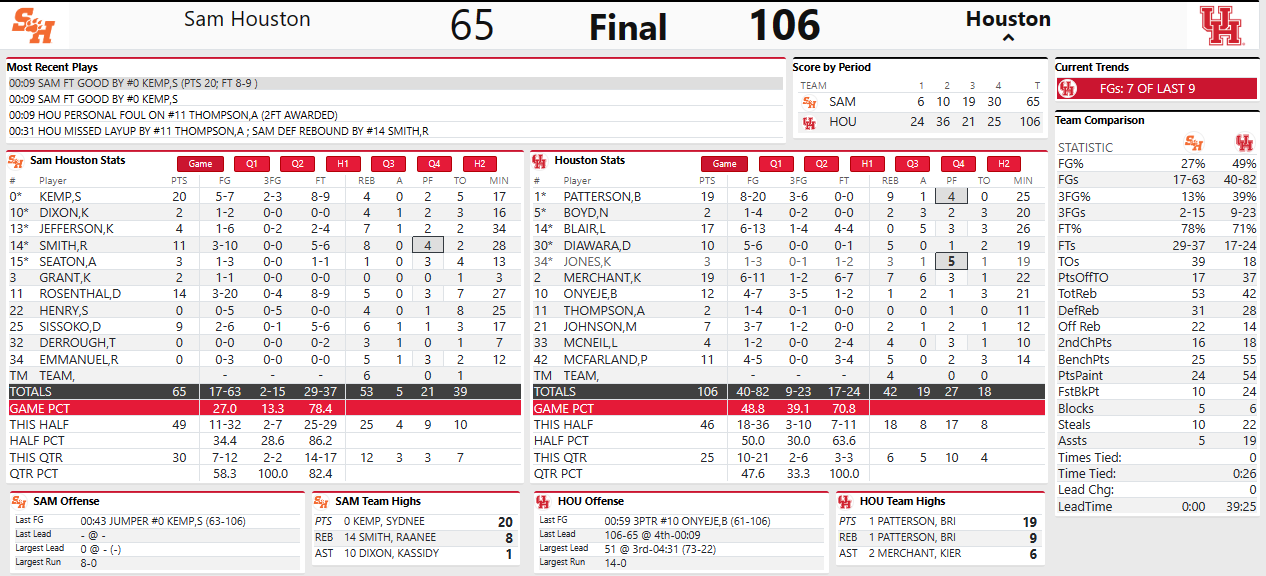 ---
SUPPORT The Houston Roundball Review:
Purchase your Coogs' gear at Fanatics.com via this link;
Get ESPN+ via this link;
Save when you get the Disney bundle (ESPN+, Disney+ and Hulu) with this link;
OR, contribute via PayPal or the Cash App.
---
CLICK HERE for The HRR's Houston Cougars' women's hoops write-ups.