Laila Blair's 26 points leads Houston to 99-61 season-opening win over Air Force


POSTED: November 10, 2023 -- 10:50 p.m. CT
HOUSTON, TX (Fertitta Center) -- The Houston Cougars women's basketball team began the 2023-24 season with a 99-61 rout of the Air Force Falcons Friday night.
Houston senior guard Laila Blair scored 26 points to lead 5 Coogs in double-digit scoring. Blair (8 for 17 fgs) added 7 rebounds, 3 assists, and 3 steals in Houston's victory.
Britney Onyeje scored 15 points; freshman guard Kierra Merchant scored 13; Bria Patterson added 12; and N'Yah Boyd chipped in 11 points.
Blair was named "Player of the Game" for her performance and received the first "I'm Her" WWE-style wrestling championship belt of the Coogs' 2023-24 season. The Coogs started a new tradition of awarding a specific belt ("I'm Her"; "Queen of Dimes"; "Queen of Rebounds" and / or "Queen of Steals") to a player -- who led the team in a specific category -- after each game.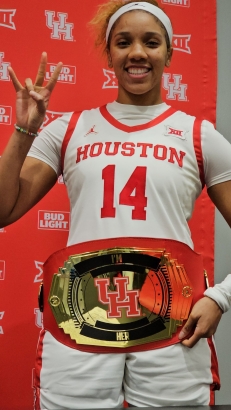 "So, there's a bunch of belts," Blair said after the game. "It's really cool."
Houston Head Coach Ron Hughey said the team did not award a "Queen of Rebounds" to a player because Houston only outrebounded Air Force by 1 (45-44) because "that's gonna be the smallest team we play all year. We gotta do a better job on the boards."
Houston outscored the Falcons 33-11 in points off turnovers and 44-20 points in the paint.
The Coogs shot 49.3% (35 for 71) from the floor while limiting the Falcons to 27.0 fg% (17 for 63).
The 38-point margin of victory marked Houston's largest win in a season opener since the 2010-11 season, when the Cougars earned an 88-48 victory against UT Arlington (Nov. 14, 2010).
NEXT:
Houston's next game is Tuesday, November 14, at home, versus Sam Houston. Tip is set for 7 p.m. on ESPN+.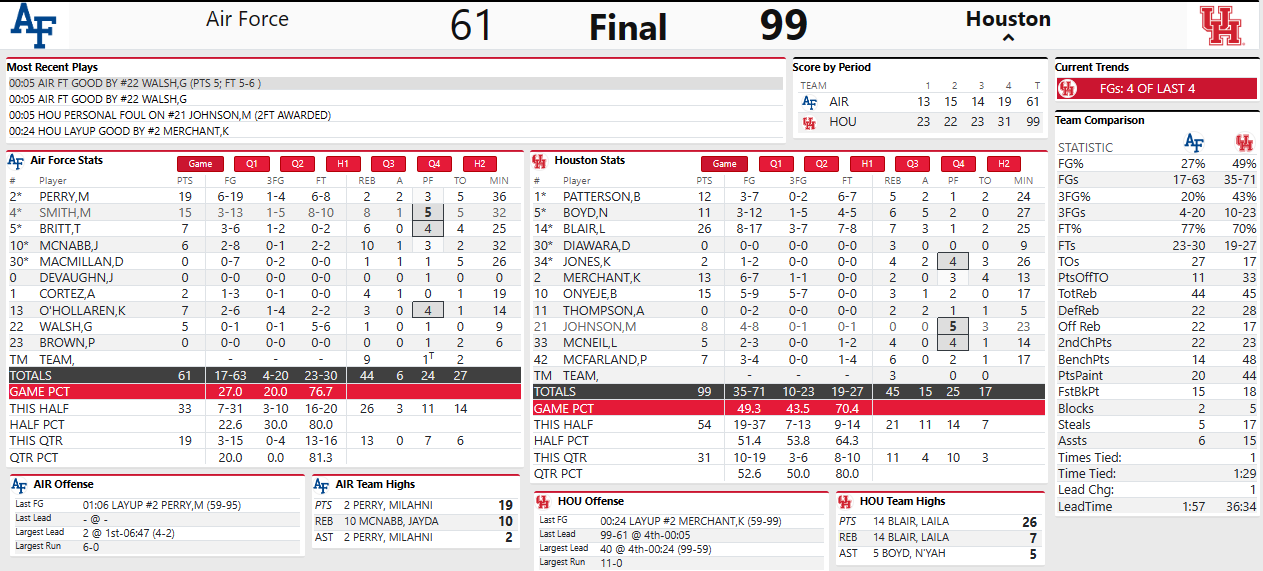 ---
SUPPORT The Houston Roundball Review:
Purchase your Coogs' gear at Fanatics.com via this link;
Get ESPN+ via this link;
Save when you get the Disney bundle (ESPN+, Disney+ and Hulu) with this link;
OR, contribute via PayPal or the Cash App.
---
CLICK HERE for The HRR's Houston Cougars' women's hoops write-ups.