Houston demolishes UCF 80-42 to improve to 3-0 in The American

POSTED: January 11, 2023 -- 8:12 a.m. CT
HOUSTON, TX (Fertitta Center) -- The Houston Cougars women's basketball team demolished the UCF Knights 80-42 Wednesday night to improve to 3-0 in the American Athletic Conference and 6-10 overall. Houston's pressure defense dismantled UCF and resulted in UCF's committing a season-high 38 turnovers.
Houston outscored UCF an astounding 47-8 in points off turnovers.
"This is definitely one of the best games. Defensively," Tatyana Hill, Houston post player said after the game.
Hill stuffed the stat sheet with 14 points (perfect 6 for 6 from the floor), 4 rebounds, 4 steals, and 4 blocked shots.
Houston junior forward Kamryn Jones scored a layup three seconds into the game. The Coogs led the rest of the game.
"We wanted to have a game where we dominated from start to finish," Ronald Hughey, Houston Head Coach said during the postgame media session.
Bria Patterson set the tone with 12 points in the first quarter. Patterson made all 5 of field goal attempts in the first quarter including 2 three-pointers as the Coogs pounced on the Knights with a 28-13 lead after 10 minutes.
UCF (9-6 overall, 0-3 in The American) turned over the ball 9 times in the first quarter which Houston converted into 12 points. In the second quarter, UCF committed a whopping 13 turnovers which led to a 17-0 points off turnovers edge for Houston. If the Knights didn't commit a turnover, they missed shots. UCF made just 3 of 10 field goals in the second quarter.
UCF had more turnovers (22) than points (21) in the first half. Houston led 45-21 at halftime.
Houston continued pouring it on in the third quarter. The Coogs outscored the Knights 25-14 in the third and forced 11 more UCF turnovers.
Bria Patterson finished the game with a season-high 18 points on 8 for 9 field goal shooting. Kamryn Jones scored a career-high 14 points. Britney Onyeje added 11 points.
Houston finished the game with 18 steals and outscored UCF 46-22 in the paint and 26-6 in fast break points. Houston scored 1.039 points per possession while limiting UCF to 0.519 points per possession in the game.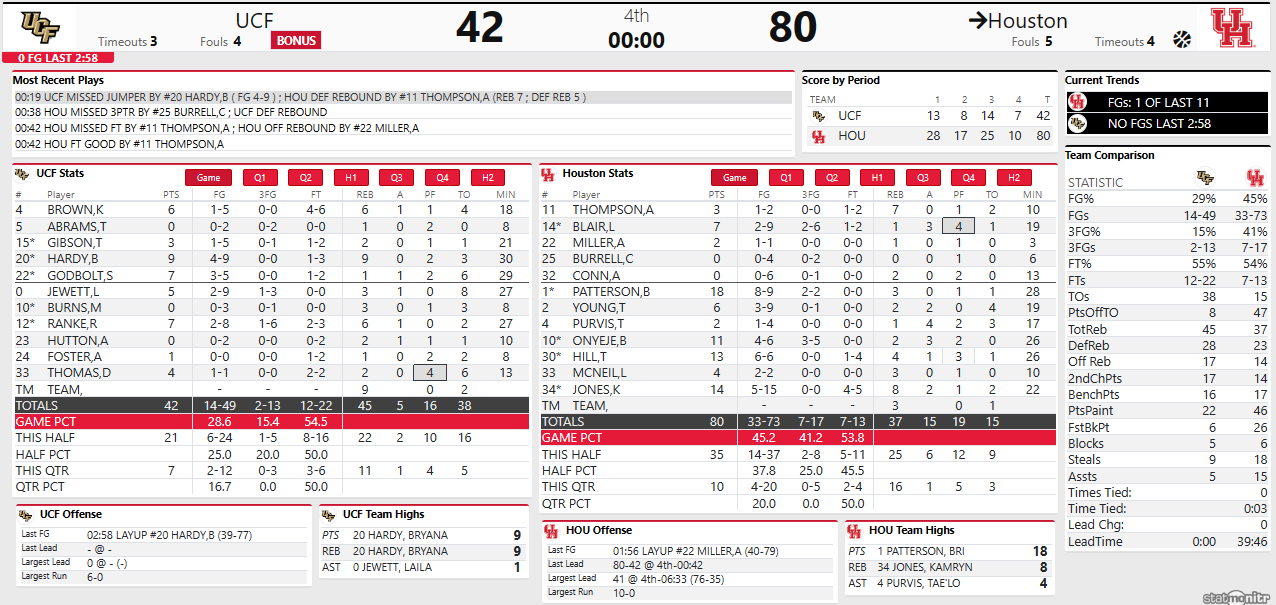 NEXT:
Houston's next game is Saturday, January 14, on the road at Tulsa. Tip is set for 1 p.m. on ESPN+.
---
SUPPORT The Houston Roundball Review:
Purchase your Coogs' gear at Fanatics.com via this link;
Get ESPN+ via this link;
Save when you get the Disney bundle (ESPN+, Disney+ and Hulu) with this link;
OR, contribute via PayPal or the Cash App.
---
CLICK HERE for The HRR's Houston Cougars' women's hoops write-ups.