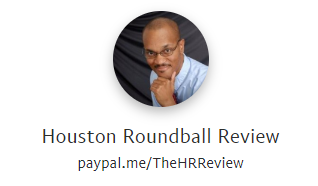 Coogs defeat Memphis 75-65 to begin AAC play

POSTED: January 5, 2020 -- 9:02 p.m. CT
HOUSTON, TX (Fertitta Center) -- The Memphis Tigers entered Sunday afternoon's matchup with the Houston Cougars on a five-game winning streak. The Houston Cougars snapped the win streak with a solid 75-65 win over the Tigers. Both teams had multiple players score in double digits; however, the difference in the game was turnovers and points off turnovers.
Memphis committed 24 turnovers. Houston (8-7 overall, 1-0 in The American) scored 22 points off the miscues.
Houston committed 16 turnovers. Memphis (9-5, 0-1) scored 7 points off the turnovers.
Houston was out-rebounded 42-28; but, Memphis only had a 19-13 edge in 2nd-chance points. Houston had a 40-36 points in the paint advantage.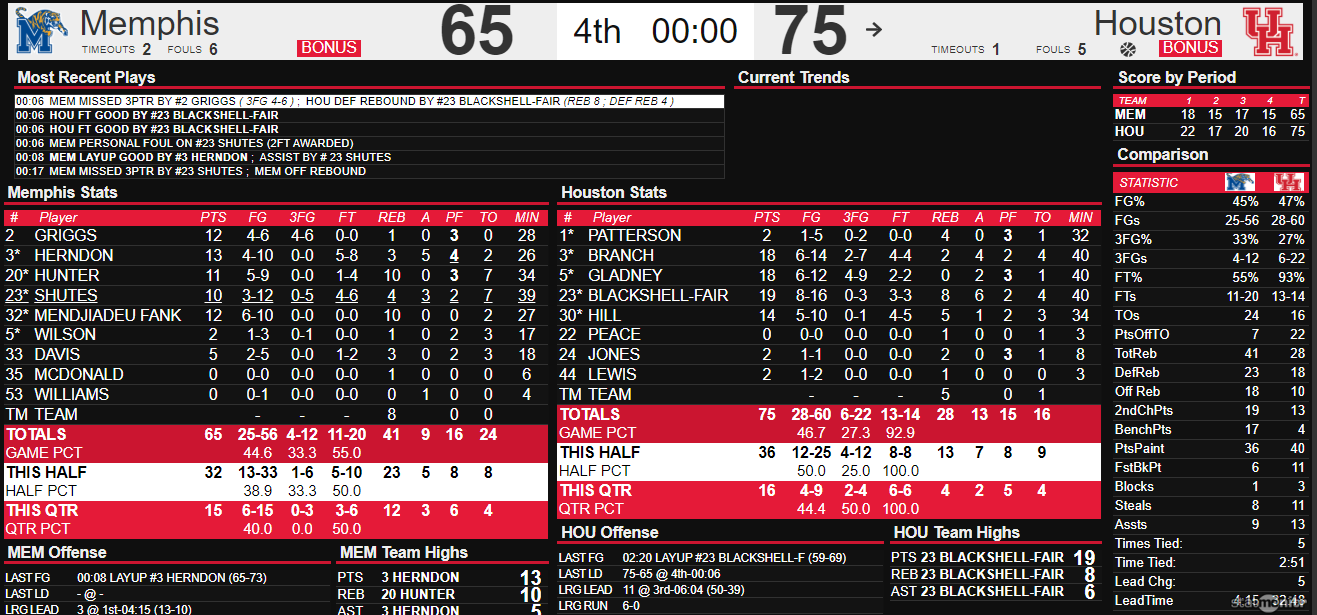 Houston's junior guard Julia Blackshell-Fair scored a game-high 19 points on 8 for 16 field goal shooting. She also pulled down 8 rebounds and dished out 6 assists.
Sophomore guard Dymond Gladney scored 18 points on 6 for 12 field goal shooting including 4 for 9 three-point shooting.
Senior wing Dorian Branch also scored 18 points (6 for 14 fgs; 2 for 7 threes).
All three players played the full 40 minutes.
Houston has 4 players sitting out this season due to NCAA transfer rules; and, one player left the team in late November. As a result, Houston has 8 scholarship players on the active roster. Today was Gladney's sixth time out of the last 7 games to play all 40 minutes.
Gladney acknowledged playing so many minutes is challenging. "Yes and no. Because I know that my teammates need me; so, it's like 'It's okay. Just push through. Push through.' But, yes, it is kind of hard.
Branch played the full 40 for the fourth time this season.
"We know that we have to play for our teammates," Branch added. "We know that we can't let up; so, we just have to use the timeouts to our best advantage."
Sophomore post Tatyana Hill added 14 points (5 for 10 fgs) and 5 rebounds in 34 minutes.
Houston Head Coach Ronald Hughey said, "Just really proud of this group for coming out and doing a hard thing: that's a really, really good Memphis team over there. I think they were like 9 and 3.
"We knew we had to play our best game," Hughey concluded.
The first quarter featured 5 lead changes and three ties. The Tigers' led 13-12; but, Branch stole the ball and scored a layup to put Houston on top 14-13. Houston never trailed the rest of the game.
The game was tied at 16; however, Gladney sank a three-pointer for a 19-16 lead. Houston led 22-18 at the end of the first quarter.
Memphis tied the game at 22 and again at 30; but, once again, Gladney broke the tie with a three-point basket. She added 2 more free throws to push the lead to 35-30.
Houston led 39-33 at halftime thanks to a fantastic offensive rebound and putback by Blackshell-Fair to beat the buzzer .
---
Get ESPN+, Disney+, and Hulu!!! Save 25% when you bundle all three and get the best movies, shows & sports.
---
Houston made 16 of 35 field goals in the first half and committed 7 turnovers. Meanwhile, Memphis made 12 of 23 field goals and turned over the ball 16 times. Houston had 13-1 points off turnovers advantage in the first half.
Houston led by as much as 11 points (50-39) in the third period; but, the Coogs developed butter fingers in the third quarter and committed 5 turnovers which lessened the impact of Houston's 50.0% (8 for 16) field goal shooting in the third.
Memphis failed to capitalize on Houston's 5 turnovers. The Tigers cut their turnovers to 4 in the third quarter; however, the Tigers only had 4-2 points off turnovers edge in the period.
The Coogs led 59-50 after three quarters.
Freshman center Jazmaine Lewis scored a soft jump hook for Houston at the 8:37 mark of the fourth quarter for a 61-52 Houston lead. Houston did not score for nearly 4 minutes.
Houston missed two shots and had 3 turnovers; and, Memphis crawled within 4 points (61-57). Coach Hughey called a 30-second timeout; and, after the timeout, Memphis left Gladney alone behind the three-point line. Gladney drained the shot.
One minute later, Branch drained a step back three-point shot for a 67-57 lead with 2 plus minutes remaining.
In the final minute of the game, Memphis was forced to foul Houston. The Tigers fouled four times just to get to the 5th team foul and put Houston on the foul line. Houston sealed the win with 6 for 6 free throw shooting in the final 40 seconds.
After the game, Gladney said the difference down the stretch was "Just to put it all on the line. You can't save yourself. Your team needs you. You just gotta push through and come out with the win."
Branch added, "I think just not letting them (Memphis) get baskets whenever they needed key baskets to get back in the game. We turned up the defense. Did our ball screen defense which we had practiced all week. We didn't want to switch up or anything. And, I think, everybody went to crash the boards; so, I think that was the biggest difference in the game."
Houston's next game his Wednesday, January 8, at 7 p.m., versus the Temple Owls, inside Fertitta Center.
CLICK HERE for The HRR's Houston Cougars' women's hoops write-ups.
Subscribe to The HRR's write-ups of UH women's basketball games by Email