Marcus Sasser and Jamal Shead combine for 47 points in Houston's 83-66 win over Wichita State


Buy Houston Cougars Gear at Fanatics.com
POSTED: March 3, 2023 -- 9:40 a.m. CT
HOUSTON, TX -- (Fertitta Center)
The top-ranked Houston Cougars defeated the Wichita State Shockers 83-66 Thursday Night in a unique manner. Houston made free throws (90.9%, 20 for 22) and forced steals (14) to overcome the Shockers stellar field goal shooting (64.9 fg%, 24 for 37).
Think about this: Houston won a game by 17 points in which its opponent shot nearly 65 percent from the floor.
Houston (28-2 overall, 16-1 in the AAC) celebrated Senior Night before the game honoring seniors Darius Bowser, Reggie Chaney, and Marcus Sasser.
Bowser and Chaney were in the starting lineup on Senior Night. Their presence in starting 5 seemed to disrupt Houston's rhythm on offense; but, more importantly, Wichita State's offense was white-hot in the first half.
The Shockers sliced up Houston's defense with 3 layups and 2 dunks for 10 of their first 12 points. The Shockers led by as much as 8 (22-14) in the first half as senior guard Craig Porter Jr made shot after shot. Porter Jr made his first 4 field goals and finished the first half 6 for 8 from the floor for a game-high 13 points.
The Shockers made shots at a very high percentage (72.2% -- when they didn't turn over the ball. They committed nearly as turnovers in the opening half (10) as they made field goals (13).
Houston struggled to make field goals in the first half. The Coogs clanged their way to 37.5 fg% (9 for 24) in the first half; however, Houston was perfect at the free throw line going 13 for 13 in the half.
Houston led 33-31 at halftime.
The Shockers 72.2 fg% is highly unusual for a Houston Cougars' opponent.
"Coach was getting after us," (at halftime) Jamal Shead, Houston point guard, said after the game. "He told us we gotta start defending. We gotta start rebounding the ball. And, I think we came out (in the second half) and responded the right way."
Porter Jr headed to the bench with his 4th foul with 16:33 to go in the second half. Houston led 40-37 when Porter Jr picked up his 4th foul. Seconds after Porter went to the bench, Marcus Sasser sank a 3-pointer which started a 10-1 Houston run to stretch Houston's lead to 50-38 with 13:50 on the clock.
The Shockers responded with an 11-3 run to cut Houston's margin to 4 (53-49) with 11:05 to go in the game. Houston freshman forward Jarace Walker made a jumper to end Houston's 3 minute scoring drought.
Jamal Shead sank a three-point shot to increase Houston's lead to 7 (58-51). Sasser scored 6 of Houston's next 8 points as the Coogs' lead increased to 10 (66-56) with 5:40 remaining in the ball game.
Shead scored 8 of Houston's final 17 points to help Houston pull away for the 17 point win. Shead scored a career-high 25 points in the game. Shead sank a career-high tying 4 three-pointers in the win.
Houston finished the game with 14 steals and outscored Wichita State 17-4 in points off turnovers. Wichita State's offense "cooled off" slightly in the second half. After shooting 72.2% in the first half, the Shockers shot 57.9% (11 for 19) in the second half. The Shockers finished the game with 20 turnovers -- 10 each half.
"They (Houston) did a good job of ambushing the low post; and, they pressure you hard and turned us over," Isaac Brown, Wichita State Head Coach said after the game. "20 turnovers is way too many, but I'm proud of our guys for fighting hard. They played hard."
"When Craig picked up that fourth foul, we had to play without our quarterback there and try to handle their pressure," Coach Brown said. "We didn't handle it well with 20 turnovers. That was the difference in the game and then the free throw line hurt us bad too. It's hard to win games when you shoot 57% and the other team shoots 91%."
After the game, Shead said teammate Tramon Mark took ownership of Craig Porter Jr's great first half.
"Tramon even came out and told us 'That half's on me.' because he let his man get going," Shead said. "He came out (in the second half) he was the first guy on loose balls; first guy on the boards; that a lot for him. I'm glad he really took pride in that. That's showing real good signs of maturity for him."
"We picked it up that second half," Tramon Mark acknowledged. "The first half we came out lackadaisical. They were getting some good looks. The second half we came out on fire. We got the job done."
Sasser finished with 22 points for his sixth straight game with 20 or more points. He became the first Cougar to accomplish that feat since guard Damyean Dotson during the 2016-17 season.
Sasser also recorded the 49th win of his career inside the Fertitta Center, equaling the mark set by forward Fabian White Jr.
With three 3-pointers, senior guard Marcus Sasser tied the school record with 261 career 3-pointers. He equaled the mark set by guard Robert McKiver (2006-08).
Houston's final regular season game is Sunday, March 5, on the road against the Memphis Tigers. Tip is set for 11 a.m. Central Time on CBS.
With a win at Memphis on Sunday, the Cougars will tie the single-season record for American Athletic Conference wins (17-1, SMU, 2016-17).
NOTE:
An adjustment was made in the game statistics from what was distributed in the arena and was originally posted online. With 1:27 remaining in the game, Marcus Sasser was accidentally credited with a basket that should have been given to Jarace Walker. As a result, Marcus Sasser should have 22 points, and Jarace Walker should have 13 points from tonight's game against Wichita State.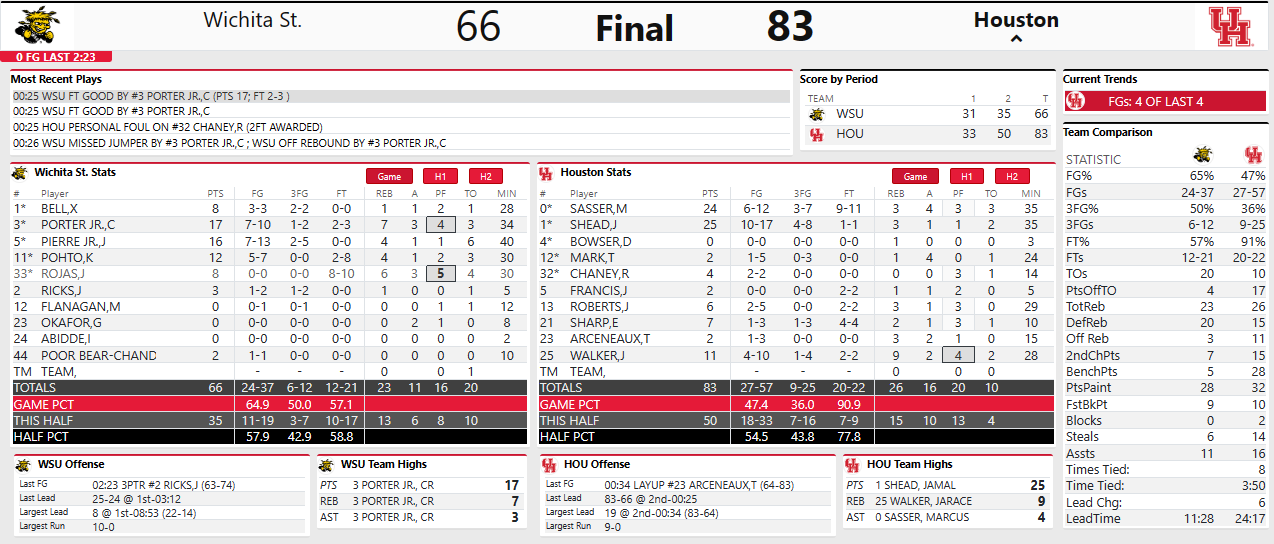 ---
SUPPORT The Houston Roundball Review:
Purchase your Coogs' gear at Fanatics.com via this link;
Get ESPN+ via this link;
Save when you get the Disney bundle (ESPN+, Disney+ and Hulu) with this link;
OR, contribute via PayPal or the Cash App.
---
CLICK HERE for The HRR's write-ups of Coogs' men's hoops games.