Top-ranked Houston holds off South Florida, 83-77


Buy Houston Cougars Gear at Fanatics.com
Houston's Marcus Sasser scored 25 of his career-high 31 points in the 2nd half
POSTED: January 12, 2023 -- 9:44 a.m. CT
HOUSTON, TX -- (Fertitta Center)
The top-ranked Houston Cougars defeated the South Florida Bulls 83-77 Wednesday night in a battle of guards. South Florida's Tyler Harris gave Houston fits and scored a career-high 31 points on 9 for 13 field goal shooting including a red-hot 6 for 10 on three-pointers.
In his Tuesday media session, Houston Head Coach Kelvin Sampson said, "Harris is like a ticking time bomb the way he shoots threes in transition."
While Harris enjoyed a career-high night, Houston's starting backcourt of Marcus Sasser and Jamal Shead combined for 51 points to lead Houston to the hard fought win.
Sasser scored 25 of his career-high 31 points in the second half Wednesday night; and Shead scored 13 of his career-high tying 20 points in the second 20 minutes. Houston scored 46 points in the second half. Sasser and Shead scored 38 of the 46 points.
Houston (17-1 overall, 5-0 in The American) was without freshman forward Jarace Walker who missed the game with a high fever. Redshirt-freshman Ja'Vier Francis replaced Walker in the starting lineup. Francis had a tough match-up with USF 7'0, 280, Russel Tchewa; but, Francis finished the game with 6 points, 6 rebounds, 3 steals, and 3 blocked shots in 21 minutes.
"He had some good moments tonight," Coach Sampson said of Francis.
With Jarace Walker under the weather, Houston was down one key player in the frontcourt. J'Wan Roberts had a tough game Wednesday night. He picked up 2 fouls early in the first half and 2 more fouls in the first 5 minutes of the second half. Roberts only played 17 minutes and finished with 3 points and 4 boards.
"You might as well say J'Wan [Roberts] was out tonight, too," Coach Sampson commented after the game. "He didn't play."
As Roberts battled foul trouble and Jarace was sick, the Coogs had to utilize a 4 guards, 1 big lineup for large stretches of the game.
""I had no choice. We didn't have any forwards left," Coach Sampson said bluntly.
Houston led 27-26 when Coogs redshirt-freshman guard Emanuel Sharp made back-to-back threes during a 10-0 run to give Houston a 37-26 lead with 2:52 left in the first half. However, Tyler Harris sank 2 free throws and a stepback three-pointer during a 10-0 South Florida run.
Houston went scoreless the last 2:52 and led South Florida (7-10, 0-4 in AAC) 37-36 at halftime.
Harris scored 13 points in the first half (4 for 6 fgs - 3 for 5 threes).
Marcus Sasser sank a three-pointer to start the second half; but, Harris (2 threes) and teammate Keyshawn Bryant (1 three) combined for 9 points in 84 seconds for a 45-43 USF lead.
Shead scored Houston's next 5 points; but, his defense was not up to Coach Sampson's lofty standards. As a result, Marcus Sasser switched to guard Harris.
"They were kicking Jamal's butt," Coach Sampson said matter-of-fact. "That was the switch-up. Jamal has not been guarding very well lately. He's got to get back and get his swagger and mojo back."
Houston trailed South Florida 53-48 with 13:40 on the clock. Marcus Sasser went on a personal 8-0 run. Sasser sank a stepback 3 then a pullup 3 before banking in a scoop layup.
Houston turned a 53-48 deficit into a 68-57 lead as Sasser scored 13 points in 6 minutes, 49 seconds. Shead added 5 points and Ja'Vier Francis knocked down 2 free throws.
Tramon Mark sank a turnaround jumper with 4:13 on the clock for a 72-61 Houston lead. South Florida refused to go away. Tyler Harris scored 4 in a row and Jamir Chaplin swished a corner 3 to trim Houston's lead to 74-68 with 1:23 remaining.
Sasser answered with a stepback 3 and was fouled. He made the free throw to complete the 4-point play for a 78-68 Houston lead with 53 seconds to go in the game.
Harris closed the game with 6 more points in the final seconds and Chaplin sank a 3 at the buzzer for the final score in the hotly contested game.
South Florida's 77 points were the most points Houston has given up this season.
"They have been a poor 3-point and free-throw shooting team this year but not tonight."
South Florida entered the game shooting 43.5 fg%, 31.8 3pt%, and 62.6 ft%. However, Wednesday night, the Bulls shot 48.9 fg% (23 for 47 fgs) including 47.6 3pt% (10 for 21 threes) and 77.8% from the line (21 for 27).
"South Florida played good enough to win," Coach Sampson commented. "But, so did we; and, we won."
"We're 17-1 and 5-0," Coach Sampson concluded. "Happy about that."
NEXT: The Coogs' next game is Tuesday, January 18, in New Orleans, against the Tulane Green Wave. Tip is set for 6 p.m. CT on ESPN+.
---
SUPPORT The Houston Roundball Review:
Purchase your Coogs' gear at Fanatics.com via this link;
Get ESPN+ via this link;
Save when you get the Disney bundle (ESPN+, Disney+ and Hulu) with this link;
OR, contribute via PayPal or the Cash App.
---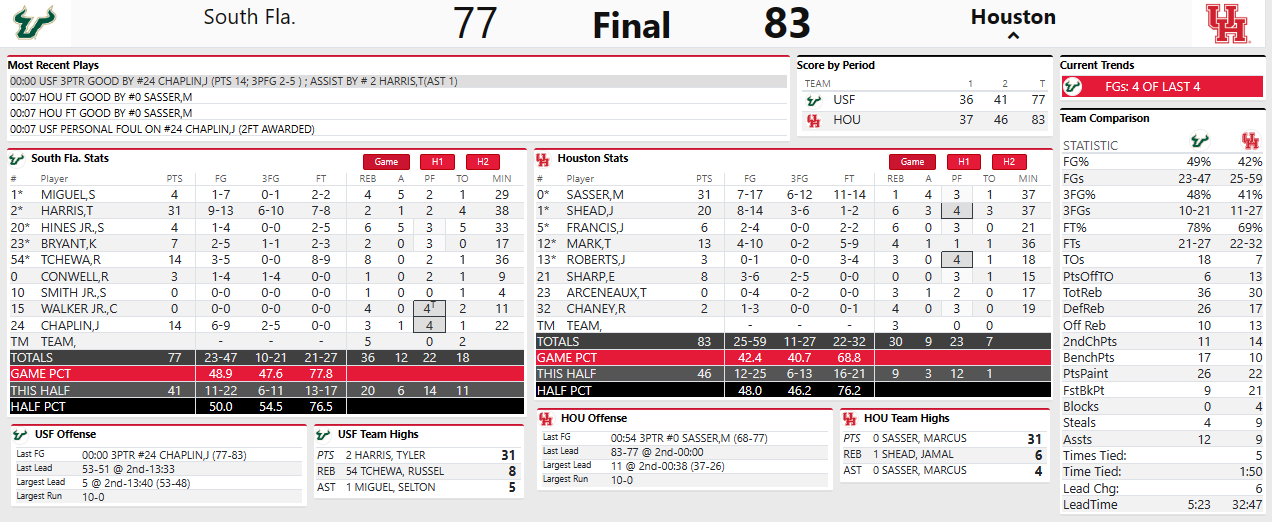 CLICK HERE for The HRR's write-ups of Coogs' men's hoops games.