Josh Carlton and Taze Moore lead UH men's hoops to win over Shockers


Buy Houston Cougars Gear at Fanatics.com
POSTED: January 9, 2022 -- 9:10 a.m. CT
HOUSTON, TX -- (Fertitta Center)
Saturday afternoon, the Houston Cougars improved to 3-0 in the American Athletic Conference and 14-2 overall with a methodical 76-66 win over the Wichita State Shockers.
Josh Carlton delivered a 22 points, 12 rebounds (10 offensive rebounds), 4 blocked shots performance while teammate Taze Moore scored 17 points and added 6 rebounds and 2 assists. Carlton (8 for 12) and Moore (8 for 11) combined to make 16 of Houston's 29 field goals in the game.
With season-ending surgeries to guards Marcus Sasser and Tramon Mark, Carlton and Moore have increased their production and embraced more responsibilities to help Houston win.
"The season wasn't going to stop because Tramon and Marcus can't play," Carlton said after the game. "As much as we need them out here, they still can't play. We just knew we were going to find a way. There was not as much margin for error and we're not going to be able to maybe blow teams out like we were before."
Carlton added, "We know we still have to find a way to win a game. Everybody knew and the role we had before and had to take another step and be ready."
Moore said, "I can agree with that. Josh remembers when Fabian (White) texted us and told us we had to step up in ways we didn't think we would for this team.
"Josh and me want to win," Moore continued. "We want to do whatever needs to be done to win. Fabian told us we would have to step up in ways that would help this team win and help put ourselves in a position to hopefully get to the conference tournament and to the Final Four."
---
SUPPORT The Houston Roundball Review:
Purchase your Coogs' gear at Fanatics.com via this link;
Get ESPN+ via this link;
Save when you get the Disney bundle (ESPN+, Disney+ and Hulu) with this link;
OR, contribute via PayPal or the Cash App.
---
Houston never trailed in the game; but, Wichita State's offense made Houston's defense work in the first half. The Shockers made tough shots and battled the Coogs to a draw (16-16 in the rebounding battle. The Shockers shot 46.2% (12 for 26) in the first half; however, the Shockers committed 8 turnovers which the Coogs converted into 14 points.
Houston led 36-31 at halftime.
Fabian White knocked down back-to-back three-pointers during an 8-2 Houston run to push Houston's lead to 44-33 with 16:52 remaining in the game. Houston's lead fluctuated from 7 to 12 the next seven minutes before Kyler Edwards made his only three-point shot of the game and Josh Carlton scored a layup for a 65-50 Houston with 8:41 on the game clock.
Wichita State (9-5, 0-2 in The American) called its final timeout and responded with a 9-0 run to cut Houston's lead to just 6 points with 5 minutes to go in the game.
Neither team scored the next 84 seconds before Houston point guard Jamal Shead stole a pass from Wichita State's Tyson Etienne and scored a layup. Shead's basket ended a 5 minute scoring drought for Houston.
Josh Carlton followed Shead's layup with a layup from an offensive rebound and a free throw for a key three-point play to stretch Houston's lead to 70-59.
The Shockers made a final push in the closing 90 seconds and pulled within 6 (72-66) with 40 seconds left in the game; however, Houston freshman Ramon Walker and Kyler Edwards each made 2 free throws to seal the victory.
"This team is 3 and 0," Houston Head Coach Kelvin Sampson said after the game. "The thing I'm encouraged about is we're going to get better."
Coach Sampson continued, "There are some areas we need to tighten up and add; but, I'm excited about where this team could be. We don't have the ceiling we had before (injuries to Sasser and Mark); but, we do have a ceiling. We're going to try to get that ceiling too as good as we can be. However good that is, we'll find out.
"Our goal is to get up to that ceiling because I've got a great group of kids to coach."
For the game, the Coogs scored 1.118 points per possession while the Shockers scored 0.971 points per possession.
Houston's next game is Saturday, January 15, at the Tulsa Golden Hurricane. Tip is set for 7 p.m. Central Time. ESPN2 will broadcast the game.
NOTE: Fabian White injured his left foot late in the 2nd half and did not play the final 6:20 of the game. The severity of White's injury is not yet known.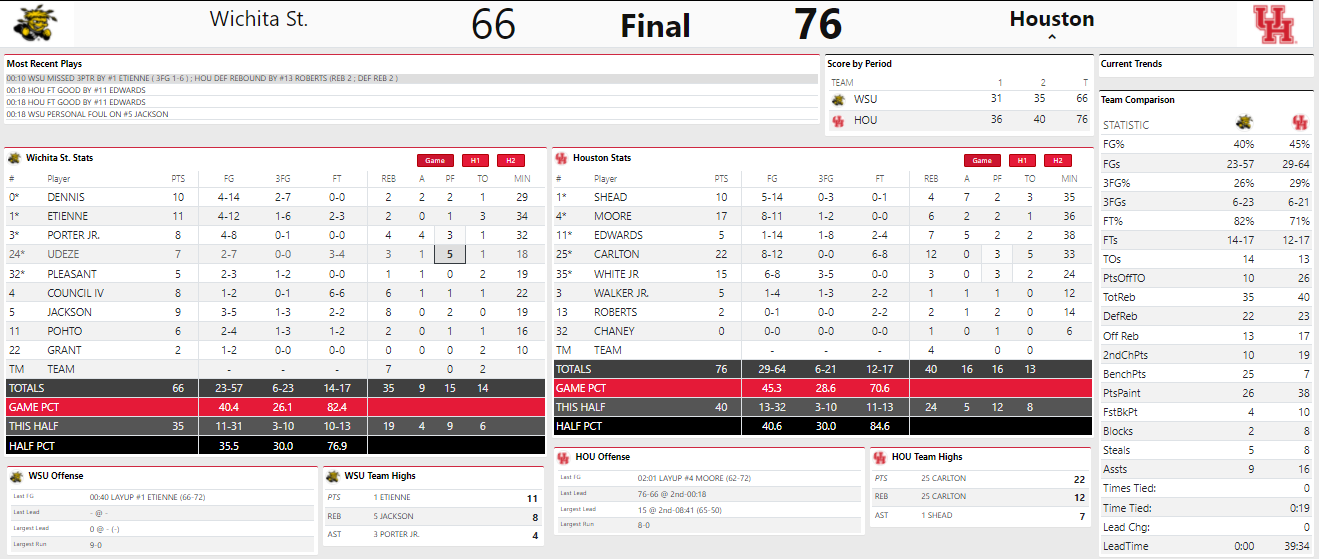 CLICK HERE for The HRR's write-ups of Coogs' men's hoops games.
Subscribe in a RSS feeds reader