Josh Carlton's career-high 30 points leads Houston to 83-66 road win over South Florida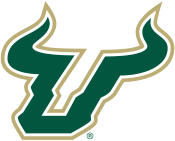 Buy Houston Cougars Gear at Fanatics.com
UPDATED: January 7, 2022 -- 9:05 p.m. CT
POSTED: January 5, 2022 -- 11:55 p.m. CT
TAMPA, FL -- (Yuengling Center)
The Houston Cougars surged to an 83-66 road win Wednesday night over the South Florida Bulls. Houston big man Josh Carlton scored a career-high 30 points and added 11 rebounds in only 25 minutes of action. USF had zero answer for Carlton; and, Houston fed Carlton early and often.
"We knew one thing," Kelvin Sampson, Houston Cougars Men's Basketball Coach, said during his postgame media session. "That the game plan was to get it in there to big number 25 (Carlton's jersey number). And, our kids did a great job of that."
Carlton was dominant in the first half with 18 points and 8 rebounds. Carlton made 7 of his 11 shot attempts in the opening half. Houston (13-2, 2-0 in The American) trailed South Florida (5-7, 0-1) 11-2 early in the ball game. The Bulls connected on their first 3 three-point shot attempts to jump to the early lead.
Carlton scored 6 straight points to cut Houston's deficit to three (11-8). Houston took a 13-12 lead on a layup by Reggie Chaney. But, South Florida answered with a 10-3 run to lead 22-16. Carlton and Shead each scored 4 points during an 8-2 Houston run to tie the game at 24.
South Florida led 26-25 before Fabian White sank a three-point shot for a 28-26 Houston lead. The game was tied at 28 and at 32; but, Houston guard Kyler Edwards hit a three-pointer for a 35-32 Houston lead with less than 3 minutes remaining in the first half. Houston led 40-37 at halftime.
After a sluggish 2 for 10 field goal shooting to start the first half, Houston finished the first half 15 for 34. Houston outscored South Florida 24-8 in the paint in the opening half.
---
SUPPORT The Houston Roundball Review:
Purchase your Coogs' gear at Fanatics.com via this link;
Get ESPN+ via this link;
Save when you get the Disney bundle (ESPN+, Disney+ and Hulu) with this link;
OR, contribute via PayPal or the Cash App.
---
Carlton continued his dominant stretch early in the second half with 6 quick points to stretch Houston's lead to 48-39 with 17:49 left in the second session. Kyler Edwards sank another three before Carlton sank two free throws to increase Houston's lead to 55-41 at the 15:03 mark of the half.
South Florida did not get within 11 points the rest of the ball game.
Edwards finished the game with 15 points, 8 rebounds, and 8 assists.
After the game, Edwards said the ankle injury which kept him out of Sunday's Houston win at Temple probably needs 4 to 6 weeks to heal.
"I'm playing on one-and-a-half, maybe one leg right now", Edwards acknowledged. "But, I couldn't leave my team. I'll do anything to help this team. I want to win that bad."
Fabian White also scored 15 points for Houston. Foul trouble limited White to 23 minutes in the game.
Jamal Shead added 13 points. Shead battled foul trouble and only played 28 minutes Wednesday night. The 28 minutes was probably beneficial because Shead played all 40 minutes Sunday against Temple; and, he began to wear down in the closing minutes of Sunday's game.
Houston finished the game with 21 assists on 30 baskets (30 for 58 from the floor).
Houston made 23 of 37 two-point field goal attempts. Josh Carlton had 11 of those 23 baskets.
Carlton's 30 points helped Houston dominate the points in the paint 42-22.
The Coogs scored 1.383 points per possession in the game.
Houston's next game is Saturday, January 8, inside Fertitta Center, against the Wichita State Shockers. Tip is set for 11 a.m. Central Time. CBS will broadcast the game.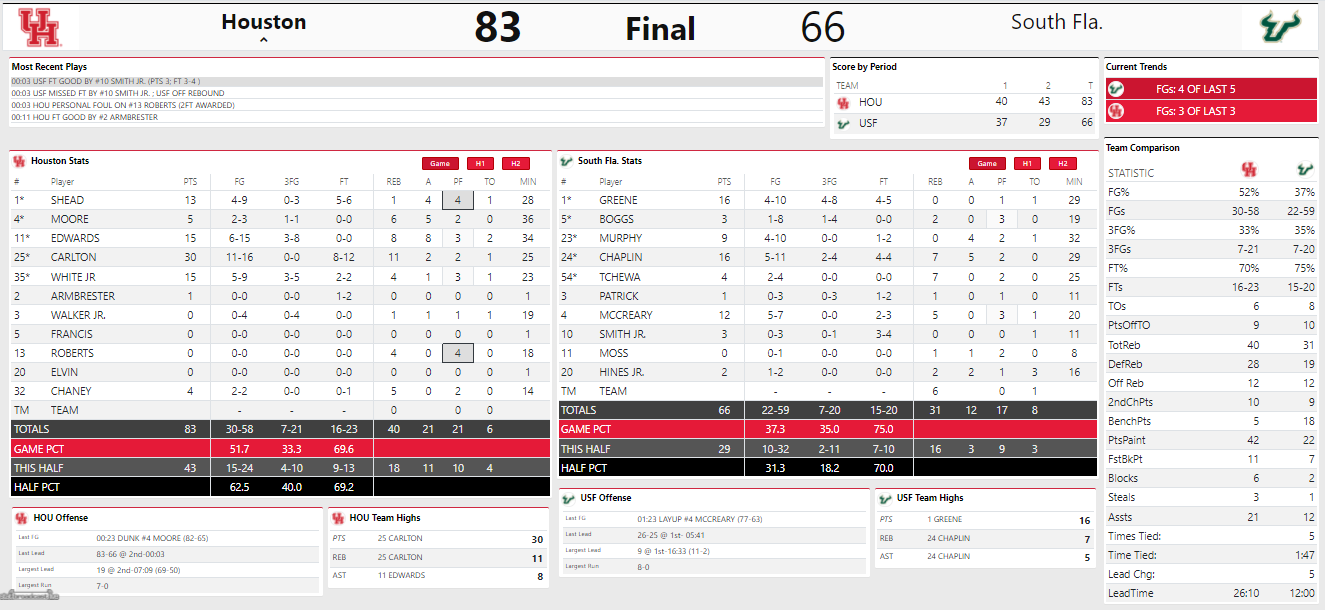 CLICK HERE for The HRR's write-ups of Coogs' men's hoops games.
Subscribe in a RSS feeds reader