Houston routs Oregon, 78-49, in 3rd-place game at 2021 Maui Invitational


Buy Houston Cougars Gear at Fanatics.com
UPDATED: November 25, 2021 -- 12:05 a.m. CT
POSTED: November 24, 2021 -- 4:24 p.m. CT
MAUI INVITATIONAL - Las Vegas, NV -- (Michelob Ultra Arena)
Fabian White scored 15 points to lead a balanced effort as the Houston Cougars (5-1) defeated the Oregon Ducks 78-49 in the 3rd-place game of the 2021 Maui Jim Maui Invitational.
Houston forward Reggie Chaney scored the first three points of the game. Oregon's Eric Williams Jr sank a three to tie the game. Houston's Marcus Sasser made two free throws. Houston led the rest of the game.
Sasser followed his two free throws with a three-point basket. White answered with a three-point bucket to put Houston up 11-3.
Oregon struggled to make shots and also turned over the ball in the opening half.
Houston led 21-9 with a 9-2 points off turnovers edge with 7:41 remaining in the first half.
The Coogs led 27-14 with 5:28 on the clock and finished the half with a 14-5 run capped off by a steal and slam dunk by Tramon Mark for a 41-19 lead at halftime.
Houston made 15 of 29 field goal attempts in the half while Oregon (3-3) made just 6 of 20 shot attempts.
Houston scored 1.171 points per possession in the half. Oregon scored 0.594 points per possession.
---
SUPPORT The Houston Roundball Review:
Purchase your Coogs' gear at Fanatics.com via this link;
Get ESPN+ via this link;
Save when you get the Disney bundle (ESPN+, Disney+ and Hulu) with this link;
OR, contribute via PayPal or the Cash App.
---
The Ducks went scoreless the first 4 minutes of the second half while Houston scored 10 straight points to lead 51-19 with 15:52 remaining in the contest.
J'Wan Roberts' one-man fast break and slam dunk gave Houston its largest lead of the game (74-40) with 5:06 on the clock.
Eleven Houston players saw action in the game. Ten scored. In addition to Fabian White's 15 points, Marcus Sasser scored 14, and Josh Carlton scored 13.
Jamal Shead had a team-high 6 assists for Houston.
Houston shot 51.6 fg% (31 for 60) and 62.5 ft% (10 for 16) for the game.
Oregon shot 39.1 fg% (18 for 46) and 66.7 ft% (8 for 12) in the game.
Oregon finished the game scoring 0.766 points per possession with a turnover percentage of 29.7 (19 turnovers on 64 possessions).
Houston scored 1.200 points per possession with 16.9% turnover percentage (11 turnovers on 65 possessions).
Houston's next game is Tuesday, November 30, at home, versus Northwestern State. Tip is set for 7 p.m. ESPN+ will stream the game.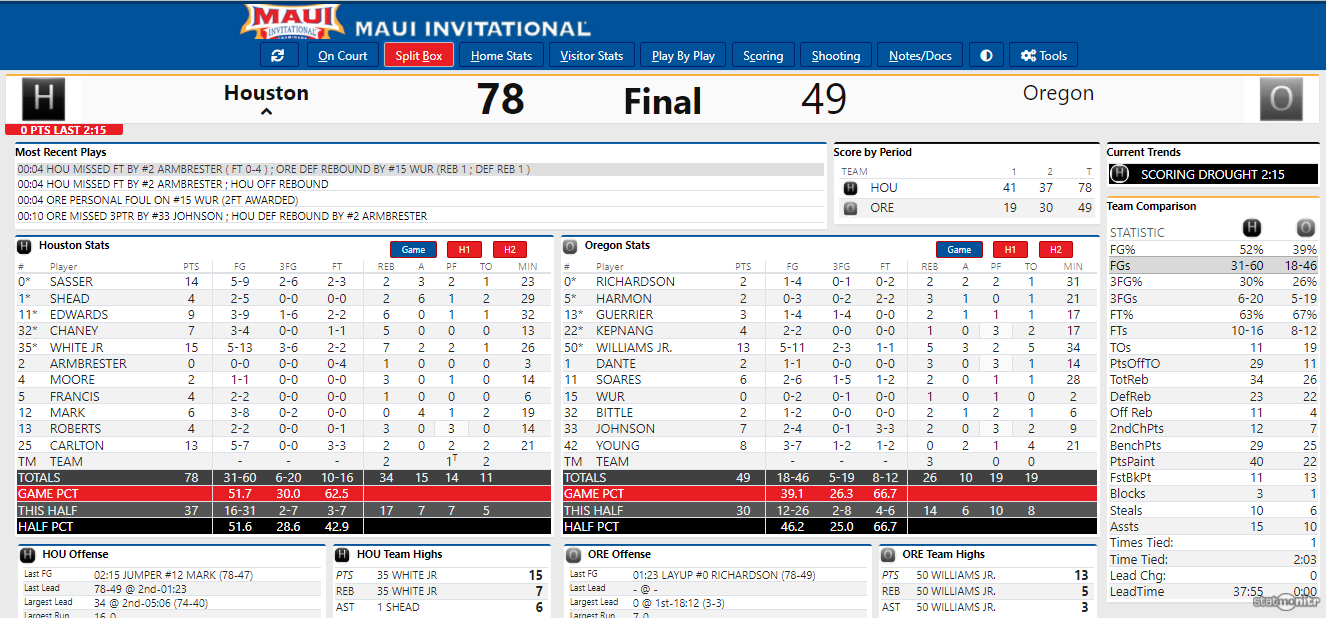 CLICK HERE for The HRR's write-ups of Coogs' men's hoops games.
Subscribe in a RSS feeds reader