Kyler Edwards announces he's transferring from Texas Tech to Houston

UPDATED: April 14, 2021 -- 1:56 p.m. CT
POSTED: April 14, 2021 -- 1:45 p.m. CT
Kyler Edwards, 6'4", 195, junior guard, announced he's transferring from Texas Tech to the University of Houston and Kelvin Sampson's Houston Cougars men's basketball program.
In 31.2 minutes per game, Kyler scored in double figures 15 out of 29 games this season at Texas Tech. He averaged 10.1 points, 4.8 rebounds, 1.1 steals and 2.8 assists per game for the Red Raiders this season.
In 2020-21, Kyler shot 56 for 134 (41.8%) on three-point attempts and 35 for 89 (39.3%) on two-point attempts.
He attempted 7.68 field goals per game. Kyler shot 78.9% (56 for 71) from the foul line.
---
SUPPORT The Houston Roundball Review via PayPal or via the Cash App.
Sign up to get ESPN+.
Or, get the Disney bundle: ESPN+, Disney+, and Hulu!!! Save when you bundle all three and get the best movies, shows & sports.
---
He earned All-Big 12 Honorable Mention as well as a spot on the Academic All-Big 12 First Team for the 2020-21 season.
Kyler led Texas Tech with 56 threes made this season. He made at least one three in 27 of 29 games played. He made 3 or more threes in eight games in 2020-21.
Here are his career stats: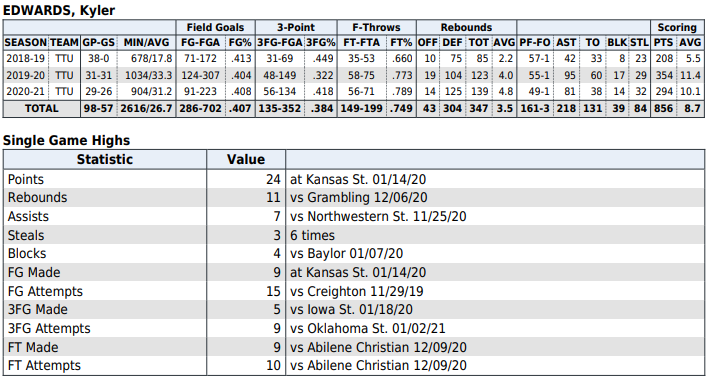 CLICK HERE for news and info about the Coogs' men's basketball team.
Subscribe in a RSS feeds reader