Coogs lose to UCF on Senior Night
UPDATED: March 5, 2019 -- 8:27 p.m. CST
POSTED: March 5, 2019 -- 8:47 a.m. CST
HOUSTON, TX (Fertitta Center) -- Prior to tip-off Monday night, the Houston Cougars presented gifts to seniors Octavia Barnes, Serithia Hawkins, and Myyah West prior to Monday night's game versus the UCF Knights. The gift presentation was the highlight of the night for Houston. The Coogs lost 59-50 to the UCF Knights to extend Houston's losing streak to three games and cap off Houston's regular season with a 15-14 record overall and 9-7 in the American Athletic Conference.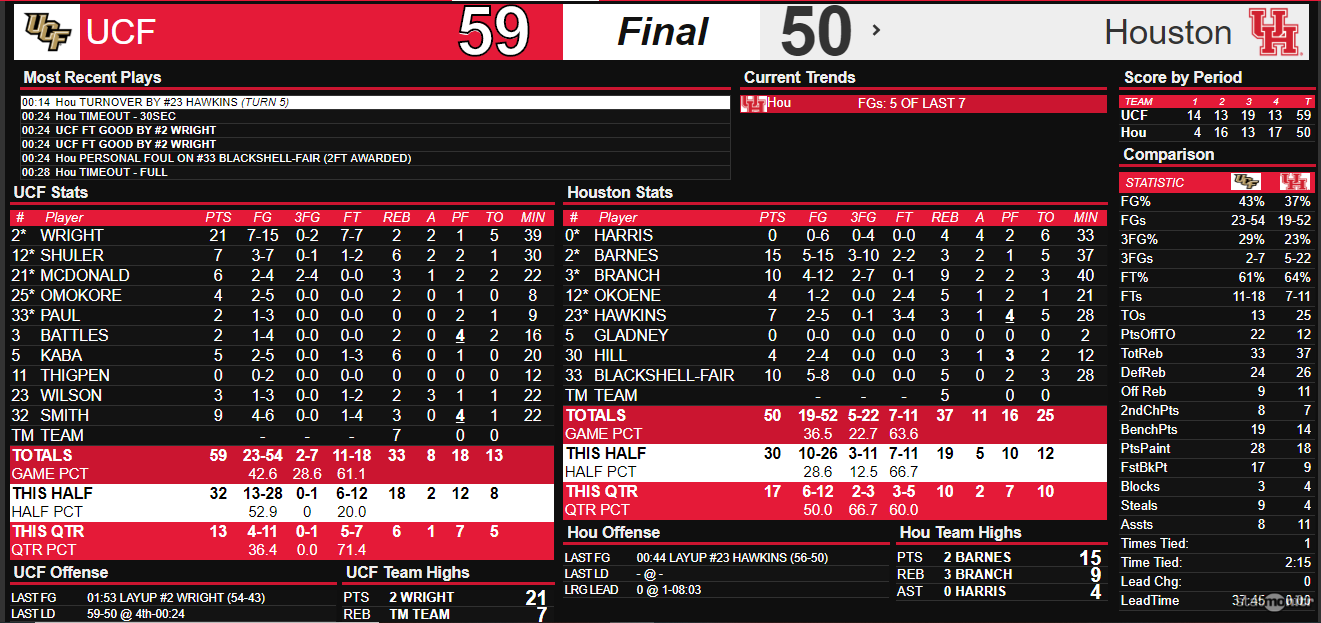 "I know it's toward the end of the year," Houston Head Coach Ronald Hughey said after the game. "Last game. Senior Night. A lot of emotions going on; but, again, it's no excuse for coming out with the turnovers we had. Some of the shot selection we had. Just not playing with the energy and focus that we need to start this game."
Houston committed 8 turnovers and made just 2 of 10 field goal attempts in the first quarter and trailed the Knights 14-4 after 10 minutes. In the second quarter, Houston reduced the turnovers to five and made 7 of 16 shots to outscore UCF 16-13 in the quarter.
Houston trailed 27-20 at halftime.
Houston pulled within three (35-32) of UCF with 4:50 remaining in the third quarter; but, UCF finished the quarter with an 11-1 spurt for a 46-33 at the end of three quarters.
UCF led 52-36 with 4:07 remaining in the game. Then, the next three and a half minutes, Houston outscored UCF 14-4 to climb within 6 (58-52) of UCF. But, as the case in last week's home loss to USF, Houston ran out of time.
Turnovers and poor shooting doomed Houston once again. Houston shot 36.5% (19 for 52) from the floor and turned over the ball 25 times in the game which UCF converted into 22 points.
Octavia Barnes scored a team-high 15 points for Houston. Dorian Branch and Julia Blackshell-Fair each scored 10 points for the Coogs.
"The inconsistency towards the end of the year is really mind boggling," Coach Ronald Hughey said. "Go to Memphis, don't play (well) the first half. Play (well) the second half; a half now - 20 minutes - not a 40 minute game. Play 20 minutes and win (59-57)."
Hughey continued, "Come back home against South Florida. Go down in the first half. Play 20 minutes in the second half and almost win (lose 59-49). You go to UConn. Play 30 minutes of a game. You lead almost the whole first half. Come out and play with energy and everything. Then, you go down fighting (83-61 loss). Then, you come back today, and, just, the inconsistency is something that we haven't had in back-to-back games or in games the same week. We just have to do a better job of figuring that part out."
"We have to coach them a little better in decision making," Hughey continued. "But, they need to make the right play.
"We're still getting better; but, tonight just wasn't one of those nights."
Houston takes its three game losing streak into the AAC Tournament which begins Friday, March 8, inside Mohegan Sun Arena, in Uncasville, Connecticut.
"Of course, you want to try to win the championship; but, we just want to go 1-0 in every game we play and let the chips fall where they may."
NEXT:
Houston's next game is Saturday, March 9, at 11 a.m., vs the winner of Friday's first round match-up between 5th-seed USF and 12th-seed Tulane.
CLICK HERE for The HRR's NCAAW write-ups.
Subscribe to The HRR's write-ups of UH women's basketball games by Email