Rice Owls lose to Texas A&M 65-54 in 2018-'19 season opener

November 7, 2018 -- 11:50 p.m.
COLLEGE STATION, TX -- Reed Arena
In a methodical match-up, the Rice Owls lost 65-54 to the Texas A&M Aggies in a hard fought game in front of 4,043 fans gathered inside Texas A&M's Reed Arena.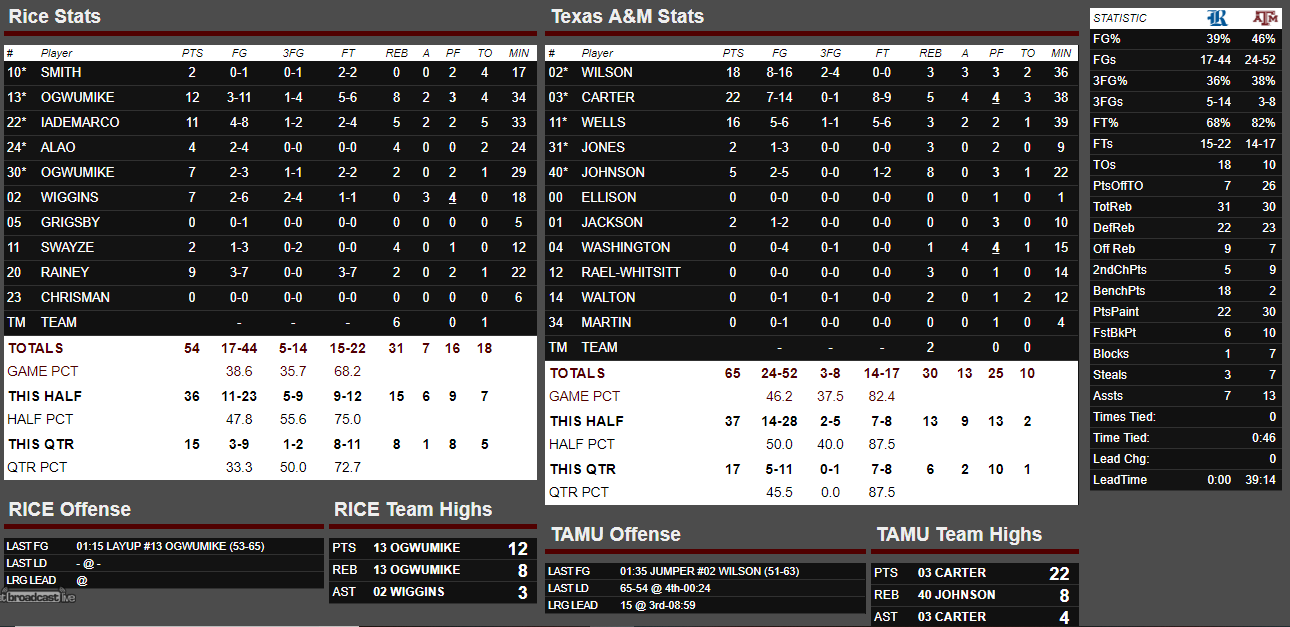 Junior guard Erica Ogwumike scored a team-high 12 points for the Owls; however, she made only 3 of her 11 field goal attempts. Teammate Nicole Iademarco added 11 points on 4 for 8 field goal shooting.
The Owls (0-1) trailed the Aggies 13-1. Rice did not score a field goal until 4:38 left in the first quarter when freshman Haylee Swayze scored a lay-up to trim Rice's deficit to 14-6.
After trailing 18-6, Rice scored the final six points of the first to trail 18-12 at the end of the first quarter.
In the second quarter, Rice had more turnovers (8) than points (6). Rice trailed 28-18 at halftime. The Owls shot 28.6% (6 for 21) in the opening 20 minutes while the Aggies (1-0) shot 41.7% (10 for 24) from the floor.
Rice trailed 35-20 with 7:53 on the clock in the third quarter; however, a 19-7 run brought the Owls within three points (42-39) with 2:26 remaining in the third period.
During the run, Rice made 4 consecutive three-point shots -- including a four-point play by sophomore guard Sydne Wiggins. The Owls did not score the final 2:26; and, the Aggies scored the last six points of the quarter to lead 48-39 after three.
The Owls got as close as 8 points (50-42) in the fourth period; however, the Aggies went on a 10-4 run during a nearly five minute segment to lead 60-46 and cruised to the season-opening victory.
"I thought Texas A&M played a tremendous game, especially on the defensive end of the floor," Rice Head Coach Tina Langley said after the game. "I just really want to credit them. I like how we fought, but execution wise we've got to get better. Our two focuses coming into the game were rebounding and live ball turnovers. I thought we did a really good job on the boards considering our size difference; but, we needed to do a little bit better with the turnovers."
The Owls made 17 of 44 field goal attempts (38.6%) and committed 18 turnovers.
Texas A&M was led by All-America candidate sophomore guard Chennedy Carter. Carter scored a game-high 22 points (7 for 14 field goals). Teammate Aaliyah Wilson scored 18 points on 8 for 16 field goal shooting. Kayla Wells added 16 points (5 for 6 field goals).
"Rice is a good ball club," said Aggies Head Coach Gary Blair. "They will win 20 again this year; and, when they get their post players back they'll be a whole different team. You will see them again in the tournament. The game was very similar to what we thought it would be, but give a lot of to our half-court defense, it was as good as we played half-court defense in a long time."
NOTE
Rice redshirt sophomore Nancy Mulkey did not play in the game due an injured right wrist. Mulkey's arm is in a sling. Coach Langley does expect Mulkey to play this season.
NEXT
Rice's next game is Sunday, November 11, at 4 p.m. against UCLA.
Texas A&M's next game is versus Jacksonville, Sunday, November 11, at 6 p.m.
CLICK HERE for The HRR's NCAAW write-ups.
Subscribe in a RSS feeds reader