Coogs win outright AAC title with 85-69 road win over Cincinnati
Byron L. Riley, CPA; 832-303-3995; Do you need tax help? IRS Tax help available- Free Consult
POSTED: March 10, 2019 -- 3:45 p.m. CDT
CINCINNATI, OH (Fifth Third Arena) -- The Houston Cougars defeated the 25th-ranked Cincinnati Bearcats 85-69 on the road Sunday afternoon. Houston senior guard Corey Davis Jr scored a career high 31 points in the win. With today's, 12th-ranked Coogs captured the outright American Athletic Conference regular-season championship with a 16-2 league mark. It's Houston's first outright league title since the 1984 Southwest Conference championship.
Houston (29-2 overall, 16-2 in the American Athletic Conference) also earned its first win at Cincinnati, snapping a 16-game losing streak to the Bearcats on the road.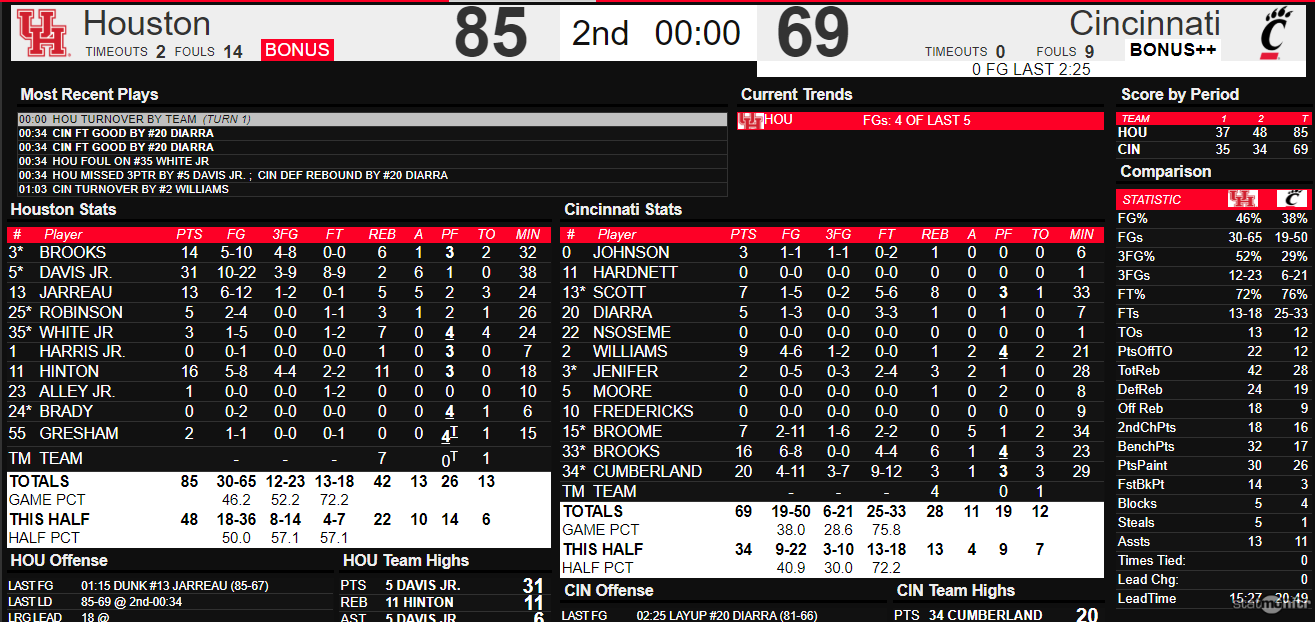 Houston's bench outscored Cincinnati's reserves 32-17 in the game. Houston freshman Nate Hinton scored 16 points and pulled down a game-high 11 rebounds in 18 minutes of action. DeJon Jarreau contributed 13 points, 5 rebounds, and 5 assists in 24 minutes off the bench.
Armoni Brooks added 14 points (5 for 10 fgs including 4 for 8 threes) and 6 rebounds in 32 minutes.
Houston trailed Cincinnati 13-5 five plus minutes into the game. However, two 3-point plays from Davis and Galen Robinson Jr plus a three-point basket by Brooks trimmed Cincinnati's lead to 17-14 with 11:42 left in the opening half. Cincinnati's Nysier Brooks scored for a 19-14 lead; but, after that basket, Houston got within one point 4 times during the next six minutes before finally tying the game at 27 on a Hinton three point basket.
Cincinnati's Jarron Cumberland answered with two consecutive three-point shots for the Bearcats. After Cedrick Alley Jr split two free throws for Houston, Davis made a step back jumper followed by two free throws by Hinton. Cumberland sank two free throws to cap off Cincinnati's scoring in the first half. Then, Davis swished a three-point shot with 36 seconds remaining to tie the game at 35. Cincinnati committed a turnover; and, after a timeout, Davis was fouled with 0.3 seconds on the game clock. Davis made both free throws for a 37-35 Houston lead at halftime.
Corey Davis, Jr scored Houston's last 5 points of the half Coogs. He's got game-high 14 pts. Jarron Cumberland scored the last 8 points for the Bearcats. He's got team-high 12 pts.
"We got out of character and started trying to get in a shooting match with a team that shoots the ball way better than us," Cincinnati Head Coach Mick Cronin said. "We had the game at our pace and just gave it all away in the last six minutes of the first half."
Houston began the second half ice cold (1 for 8 field goal shooting); and, Cincinnati (25-6, 14-4) managed to take a 41-38 lead before Davis sank another three-point shot to tie the game at 41 with 15:37 remaining.
Cincinnati scored six straight points in 1:42 to lead 47-41; and Houston Head Coach Kelvin Sampson called a timeout.
Then, Boom! Houston's offense caught fire!
Davis scored on a three-point play. Hinton sank back-to-back three-pointers before Fabian White Jr scored on a dunk (assist from Davis) for a 52-47 lead with 11:56 on the clock.
Cumberland made two foul shots to end Cincinnati's scoring drought; but, Armoni Brooks swished a corner three before DeJon Jarreau scored a lay-up in transition to increase Houston's lead to 57-49.
Houston extended the lead to 17 (76-59) with a 19-10 burst. During the burst, Houston made 7 consecutive baskets. The Bearcats did not recover.
After scoring 14 points in the first half, Davis scored 17 in the second half. Davis made 10 of 22 field goal attempts and 8 of 9 foul shots. He also added 6 assists and committed zero turnovers.
The Coogs made 10 of their last 12 field goal attempts to change 8 for 24 shooting to 18 for 36 field goal shooting in the second half. Houston made 8 of 14 three-point attempts in the second half and 12 for 24 threes in the ball game.
Houston outrebounded Cincinnati 42-28 in the game including 18-9 on the offensive boards. Houston outscored Cincinnati 18-16 in 2nd-chance points; 32-17 in bench points; 30-26 in points in the paint; and 14-3 in fastbreak points.
Houston finishes the regular-season with a 29-2 record, setting a school single-season record for regular season wins. The 29 victories topped the previous high of 28 regular-season wins set by the 1967-68 team.
"29-2 is a bit mind-boggling but 8-1 on the road in the league is what I'm most impressed with," Houston coach Kelvin Sampson said. "Winning eight out of your nine road games and the one loss we had was to a really good Temple team. Our team just got better and better and better."
---
Byron L. Riley, CPA; 832-303-3995; Do you need tax help? IRS Tax help available- Free Consult
---
NEXT:
Houston opens AAC tournament play in a quarterfinal game, at 11 a.m., Friday, March 15, against an opponent to be determined..
CLICK HERE for The HRR's write-ups of Coogs' men's hoops games.
Subscribe in a RSS feeds reader
Subscribe to The HRR provides news and info of UH Coogs' men's basketball by Email