Dr. Cavil's HBCU Basketball Rankings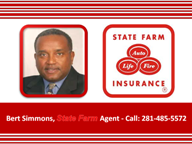 Bert Simmons - State Farm Agent, 281.485.5572 PRESENTS:
Dr. Cavil's HBCU Major & Mid-Major Division >Men's & Women's Basketball Top 10 Poll Rankings
"TEN YEARS AND COUNTING ...!" 10th Anniversary (2002-2012)
HBCU Basketball Rankings
Click HERE for the 2014-'15 Men's and Women's All-American Teams.
2014-'15 Final Fabulous 5 Power Poll Rankings:
Major Division: Men's Hoops Final 5 (.pdf) | Women's Hoops Final 5 (.pdf)

Mid-Major Division: Men's Hoops Final 5 (.pdf) | Women's Hoops Final 5(.pdf)
See the rankings from the 2013-2014 Season
Powered By: THG Agency, LLC - (The Heritage Group) & TSPNSports.com
THG Agency, LLC - (The Heritage Group, www.thg-agency.com) is a fully integrated sport entertainment, educational leadership, and project management consulting company focused on Sport Administration and Education Administration with six areas of expertise: 1) Sport Business Management Consulting, 2) Educational Sport Assessment Consulting, 3) Data Analysis Consulting, 4) Educational Curriculum Development Consulting, 5) Advanced Leadership Execution Consulting, and 6) Statistical Solutions Consulting.
The poll is based on a combination of a ranking algorithm and a voting system. It is the original HBCU poll that separates the rankings (since 2003) of NCAA Division I, NCAA Division II and NAIA Division I member HBCU institutions into two distinct categorical polls: Major and Mid-Major (This format is unlike the historic SBN Football Poll). The Major Division Poll, consist of NCAA Division I Basketball programs and the Mid-Major Division Poll, which consist of NCAA Division II, NAIA Division I and NAIA Division II programs. This format introduced to the public based on the request of Black College blogging fans and on the research that consists of data mining and the difference in scholarship limitation and requirements beset by NCAA and NAIA bylaws (i.e. NCAA Division I - 15, NCAA Division II - 10, NAIA Division I - 11 and NAIA Division II - 6).
Dr. J. Kenyatta Cavil, EdD, MBA, is an entrepreneur, HBCU sports & sport business analyst, and lectures at Texas Southern University in Houston, Texas as an Assistant Professor and acting Coordinator of the Sport Studies & Leadership Program.
Contact: Dr. J. Kenyatta Cavil; Email: kcavil@thg-agency.com; Office #: 281.330.1341
Follow - Facebook: @ DrKenyattaCavil; Twitter: @ DrKenyattaCavil
© 2003-2016 3C Communication - A THG Agency, LLC Company. www.thg-agency.com & 3C Communications - All Rights Reserved.